Fall Energy Saving Tips
Autumn brings with it a whole new set of household chores, from winterizing your outdoor plumbing to raking leaves. It's also the time of year when most of us fire up our furnaces for the first time in several months. If you have energy efficiency on your mind as fall rolls around, use these tips to make sure you're set up to save.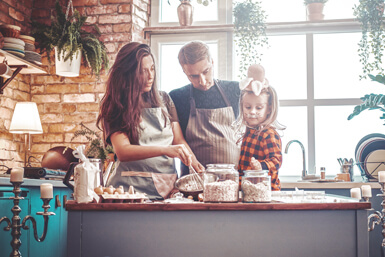 Maintaining Your Furnace
Schedule your annual furnace tune up, ideally before the first cold weather arrives. A licensed HVAC technician can make sure your furnace is clean, safe and in good working order before beginning its season-long workout. This maintenance not only helps prevent breakdowns, it helps maximize energy efficiency.
Check your air filter often and replace it as needed. As the temperature drops and your family starts spending more time indoors, it can result in more dust clogging your filter. A clogged filter forces your HVAC fan to work harder, which wastes energy.
Check for leaky air ducts. With your system running, use your hand to feel along the length of accessible ductwork in your basement and attic. If you find a leak, you can patch it with aluminum tape. If you find ductwork in poor condition, call an HVAC technician for a consultation.
Sealing and Insulating
Locate and seal air leaks around your home. You probably already know where your home's draftiest areas are, but even hidden drafts can hurt your energy efficiency. You can try to pinpoint them yourself using a tool called a smoke pencil, or you can schedule a professional energy audit to locate them with infrared imaging equipment. You can seal these gaps with caulk or spray foam.
Inspect weather stripping and replace it as needed. The rubber gaskets around your doors and windows are great at blocking drafts, but only when the weather stripping is in good condition. If it's dry, cracked or damaged, it's time to replace it. Self-adhesive strips are available at most hardware stores and are easy to install.
Add or replace attic insulation if your existing insulation is insufficient. This is one of the most important thermal barriers in your home. While there's no right or wrong answer for the type of insulation you use, there is a right answer for the amount. Insulation efficiency is measured in "R-value", and the minimum total R-value you should have in your home varies by region. Use this Energy Department map to check the R-value target for your region.
If you have window air conditioning units, put them in storage. They allow cold air to stream right in.
Consider installing foam gaskets behind light switches and outlet covers, especially if these areas feel drafty. They may be weak spots in your wall insulation.
Checking Chimneys and Vents
If you have a functional fireplace, schedule a professional chimney sweeping before the first fire of the season. Building a fire under a dirty chimney can create a range of dangerous outcomes, including fast-spreading fire and letting smoke and carbon monoxide into the home.
Autumn is also a good time to inspect your fireplace damper to make sure it closes tightly and opens smoothly. If you get your chimney professionally serviced, this inspection is usually included.
If you're going to spend a few hours near a blazing fireplace, remember to turn the thermostat down a few degrees to save energy.
Make sure all exhaust vents are working properly. Exhaust fans in kitchens and bathrooms typically vent through pipes that extend through the roof or side of the house, and these are often covered by hinged flappers. If you turn the fans on and can see the flappers moving on the vent pipes outside your home, you know they're venting properly.
Saving on Hot Water
Don't set your water heater temperature higher than 140 degrees, which is sufficient to kill any harmful bacteria. If you're leaving your home unoccupied for an extended period, it's safe to turn your thermostat down or set your water heater to vacation mode. Just remember to adjust the settings when you return and wait for the water tank to heat up again.
Wrap your water heater in an insulating jacket, especially if it's located in a garage, attic, basement or any unheated area of the home.
If you're planning new construction, locate the water heater strategically. The closer it is to the kitchen and bathrooms, the shorter the distance your hot water must travel. This minimizes heat loss to help you save energy.
Keeping Warm
Run your ceiling fans clockwise and at low speeds during heating season. This will redistribute the warmest air in the room, allowing you to set the thermostat a little lower without sacrificing comfort.
Open the shades on sun-facing windows during the day to get free solar heat, but close them after dark to add a little extra insulation. Heavy drapes work best.
Dress in warm clothes around the house. If you feel cold, try throwing on one more layer before turning up the thermostat.
Make sure your HVAC vents aren't blocked by furniture, drapes or other obstructions. To help them direct warm air into the center of the room, you can buy easy-to-install vent deflectors.
Upgrades Around the House
Is your furnace nearing the end of its life? If you're anticipating furnace replacement, plan for a high-efficiency unit. The upfront cost may be higher, but you'll save more in the long run through lower operating costs. Look for the ENERGY STAR label when furnace shopping.
Consider upgrading your windows, especially if they're single-pane, decades old or in a state of disrepair. Inefficient windows can be the weakest spot in a home's thermal envelope, and multi-pane, gas-filled windows can make a world of difference in both savings and comfort.
Install a programmable or smart thermostat. With a programmable thermostat, you can save money by automating lower temperatures while everyone is at work or school. A smart thermostat offers that feature and more, including full control of your thermostat from your smartphone or tablet.