Energy Savings Tips for Your Basement
When looking for areas of your home to target for energy efficiency upgrades, the basement is often an afterthought. It's likely not the first place you choose to spend your time, nor is it the first place you choose to invest in home improvement projects. However, the basement actually contains many opportunities for upgrades and improvements that will cut down on your energy consumption, and if you've been neglecting it in the past, the margin for savings is all the greater. Read on for key energy savings tips for your basement that will help you cut down on your utility bills and save money.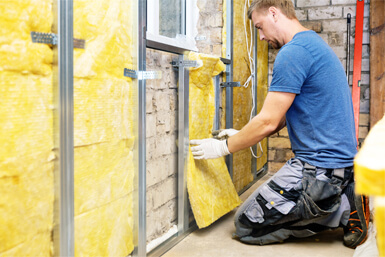 Important Energy Savings Tips for the Basement
Look at lighting options: Basements, by nature, are energy inefficient when it comes to lighting. They often have poor natural light, and their low ceilings mean track or halogen pot lighting solutions are a staple. Replace these light bulbs with long-lasting fluorescent bulbs or LEDs for an inexpensive upgrade. If you have the money, consider making a larger basement renovation to turn egress windows into lookout windows. Not only will allowing in more natural light save money on electricity, it will make it more pleasant to spend time in the space. You'll be surprised how much more time you spend in your basement with its new views.
Replace the windows: Like your lighting solutions, the windows in seldom-used areas of your home generally aren't the most energy efficient, and could be allowing treated air to seep out of your house. Replacing them with energy-efficient alternatives will help you keep heated and air conditioned air indoors where it belongs, and can even improve your home security by making your home more resistant to burglars.
Finish/insulate your basement walls: If your basement is unfinished, you may be lacking insulation in the walls. That means the energy you're spending to keep your home nice and warm is being wasted. The proper thickness of the insulation in your basement will vary based on where you live, and it's worth bringing a contractor in to give you an expert opinion on your current insulation levels. If you have any plans to finish your basement, adding insulation should be step number one, as the cost increases dramatically once the walls have already been established.
Hunt down and seal holes and gaps: Putting up insulation in the walls is a good first step, but you are likely to still have leaks and drafts in your basement in areas where wires, pipes and ducts run through the floors, walls or ceiling. Use caulk and spray foam to seal anywhere you can find a gap, and use mastic tape to patch holes in the ductwork itself.
Upgrade your appliances: If you have a bathroom or laundry room in the basement, you'll improve your home's energy efficiency by upgrading the appliances in these spaces. Replace that old water-guzzling toilet with a new, low-flow option and invest in an ENERGY STAR washer and dryer. The initial cost may be expensive, but you'll start to see the energy savings immediately. When it's time to replace your furnace and water heater, of course, you can see ever bigger monthly savings by putting out the up-front cash for high-efficiency models.
Wrap the water heater: Make a stop in your utility room while on your energy efficiency tour. If you have an electric water heater, wrap it in an insulated jacket and then wrap foam or even a towel around your pipes to help the water stay warmer for longer and reduce the burden on your appliance to continuously heat it up.
Encapsulate the crawlspace: If you have a crawlspace in your basement, it might be creating energy-sapping humidity problems, especially if your house was built in the 1970s or before. Venting in the crawlspace allows moisture in from the outdoors, which causes your air conditioner to work harder to dry out the air inside the house. Simply sealing the crawlspace with plastic sheeting should stop the influx of humidity and provide a reduction in your cooling bills.
Your basement may be an afterthought during an average day, but it shouldn't be ignored when it comes to your energy usage. Fortunately, it's easy to make some immediate improvements in this space, and you'll see the results month after month when your energy bill arrives.