The Players in the Illinois Natural Gas Market
This article aims to change that by providing consumers with an inside look at the major players in the Illinois natural gas market, as well as additional insight into the role consumers themselves play.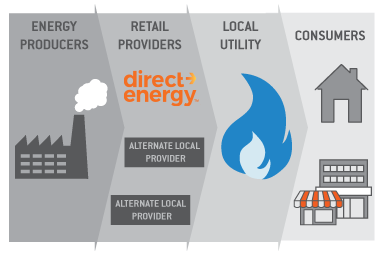 The Illinois Commerce Commission
The Illinois Commerce Commission (ICC) isn't a link in the natural gas supply chain, but it pays to put them first, as the ICC is the regulatory body charged with overseeing the natural gas market in the state of Illinois. On its website, the ICC states its mission as "to balance the interests of consumers and utilities to ensure adequate, efficient, reliable, safe and least-cost public utility services." The ICC is made up of a five-member commission with a chair designated by the governor. Each commissioner is nominated by the governor and approved by the state senate. Upon approval, the commissioners serve a 5-year term. In addition to natural gas, the ICC oversees other utility concerns, including water, sewer, and telephone. It also monitors transportation in the state.
Local Distribution Companies
Otherwise known as utilities, LDC's were once the sole providers of natural gas in the state of Illinois. In today's deregulated market, however, consumers have the choice to get service from their local distribution company or to seek the services of a competitive third-party supplier. Whatever choice they make, their local distribution company is still responsible for the physical transmission of the natural gas. And should any problem arise with the line, the local distribution company will correct it. If a consumer chooses not to sign a contract with anyone, they will receive natural gas service from their local distribution company by default.
Competitive Suppliers
Competitive suppliers, otherwise known as gas marketers, are third-party companies operating in the deregulated Illinois natural gas market. These companies offer consumers shopping for gas services an additional choice besides their LDC. This allows consumers to choose the competitive supplier that best matches their needs. Competitive suppliers can offer consumers a variety of pricing options as well as rebates, loyalty programs, and other incentives. Receiving natural gas from a competitive supplier requires signing a contract, so homeowners should make sure they have reviewed all of their options carefully before making a final selection, as abandoning the contract early will often result in fees.
The Consumer
The most important part of the Illinois natural gas market is the consumer. Each of the previously mentioned players works with the consumer in mind, whether it is to protect their rights, as the ICC does, or to deliver service and gain business as the utilities and competitive suppliers do. Consumers have the power to shape their local natural gas market simply by the decisions they make every day. Those who do can rest comfortably at month's end knowing the bill they receive represents the best service options for their needs.