How to Find a Moving Company
One of the most expensive parts of moving is hiring a moving company. It can be difficult to determine whether you need professional movers; once you decide you do, finding a reputable company that fits your needs can feel like an overwhelming task. Whether you're moving long distance or considering using a moving company for the first time, we share tips on how to decide whether you need professional moving help and how to find the right movers.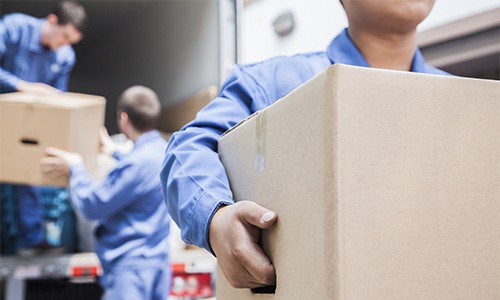 Should you hire a moving company?
There are several things to consider when deciding whether you should hire professionals:
Cost. Can you afford to factor the cost of a moving company into your budget?
Labor required. Do you dread trying to move that heavy couch or pool table, or are your belongings fairly lightweight?
Do you have friends or family who can help you if you don't hire movers?
Volume and driving ability. If you're moving a whole family's worth of furniture, clothing and other items, you'll probably need a large truck, and you or someone you know will need to feel comfortable driving one.
Season. If you're moving in an off season like winter, the moving company rates will likely be cheaper.
Available alternatives. There are a few alternatives to professional movers that may be at your disposal, including DIY, PODS and moving truck add-ons.
Things to consider when finding a moving company:
Distance. If you are moving out of town, out of state or cross-country, make sure the moving companies will go long-distance.
Packing services. Most movers offer optional packing services, and if you choose not to use them the mover is not usually responsible for any damages. If you decide to use their packing services, be prepared for high materials prices and make sure the packers are experienced.
Extra fees. Moving companies charge extra for transporting loads through stairways or elevators, and for having to transfer items to a smaller truck to fit into a narrow passage or alley. Ask your movers about any additional fees.
Know your rights and responsibilities. Read about your rights and responsibilities with the Federal Motor Carrier Safety Administration's handbook.
Moving insurance. Movers are required to assume liability for the items they transport, but there are certain levels of liability that you can choose from. Consider the level of liability you want the movers to have. The higher level of liability, the higher the cost, but the lower risk you'll take.
How to find a reputable moving company
Look at ratings and recommendations. Look at ratings for any companies you're considering and get recommendations from friends and family. Visit the American Moving and Storage Association for a list of trustworthy movers.
Research other companies to get an idea of the going rate. If a company is quoting a much lower price, be cautious. This could indicate any number of red flags, such as tacking on fees later or being careless with your belongings.
Look for name switches. Make sure the company has a local address and answers the phone with the full name of the business. Look for other names the company may do business under and research their state and federal license numbers. Call the Federal Motor Carrier Safety Administration's consumer complaints hotline to learn about the company's history.
Have them take inventory. A good mover will do a thorough walk-through of your home and take note of everything you're moving, including the size and weight of your items. This will help you get the most accurate price up front, so be ready to tell them what you want and don't want on the truck.
Watch for deposit requirements. Reputable movers may ask for a down payment, but they will not ask for a large sum of money before they move your belongings. You should be able to pay in full for their services within 30 days after moving day.
Check for licenses. Make sure the movers are licensed, insured, bonded and registered with the Department of Transportation.
Watch out for blank contracts. Your moving date, distance, price, extra fees, and all your belongings being moved should be listed on the contract.
Get a copy of your rights. By federal law, movers have to provide you with a copy of the aforementioned "Your Rights and Responsibilities When You Move."
Check the truck. The movers should arrive in a branded truck, not a blank truck or a rental.
Check for scams. Movingscam.com will let you know about any trending moving scams.
Hiring the right movers is critical to ensure your moving day runs smoothly and all your household goods make it to your new home safely. Make sure the movers you entrust with your belongings on moving day are not only reputable, but are the right company for your needs.