Helpful Tips for New Homeowners
Congratulations! You closed on your new home and moving day is quickly approaching. You've checked everything off your moving checklist, like purchasing packing supplies, hiring movers and submitting your change of address , but there is still plenty to do before – and after – moving day. The following tips will provide information every new homeowner should know before settling into a new home.
Checklist for a New Home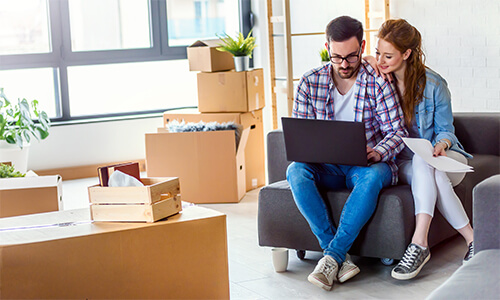 File Your Important Stuff
Invest in a filing cabinet or small safe if you do not already have one. You will need one to file all your important items like paperwork from the closing, receipts, insurance, property tax bills and even instruction manuals for any new appliances you buy.
Set Up Your Utility Services
At least one month prior to your moving date, you should have arranged to have your basic utilities turned on, including electricity, gas, and water. Having power and water when you arrive will make settling in much easier. You'll be able to adjust the climate in your home while unpacking, and you'll have running water to clean and use the bathroom. It is ideal to have cable, internet, home security system and other utilities turned on prior to the move, but these items can also be activated once you move-in.
Clean Up and De-bug
Purchase cleaning products and supplies to clean your home before (if necessary) and after everything has been unpacked. If you are short on time and your budget allows it, hire a professional cleaning service to give your new home the polished and refreshed look it deserves. If the seller has not done so already, arrange for a pest control service to exterminate the entire house and inspect inside and outside the home for any existing issues like a termite or rodent infestation.
Change the Locks
One of the first things many homeowners do is change the locks, especially when purchasing a previously lived-in home. There may be extra copies of keys floating around, so it's best to ensure that only you and your family have access to your home. While you're at it, get an extra copy of your key made and give it to someone you trust in case of emergency.
Inspect and Secure Your Home
If possible, do any home improvement or repairs before moving in. In addition to changing the locks, check to see if smoke detectors are installed in every room and that they are working properly. Provide at least one functional fire-extinguisher per floor and, if you feel that you need one, this is also an appropriate time to have a home security system installed.
Check for plumbing leaks, dripping faucets, and running toilets. To ensure there are no signs of water leaks, record the readings on your water meter at the start and end of a period of several hours when no water was used. If the two readings differ, it's a sure sign you have a water leak. You will need to locate the source and fix it.
Get familiar with the layout of your home and make sure you know where your circuit breaker box and main water and gas valves are in case of emergencies, or if you're going to make electrical or plumbing repairs that require cutting off the electricity or water supply.
If you are moving to a previously-owned home, replace air filters and have your furnace or boiler, AC unit and water heater inspected by a professional. If your technician recommends maintenance, have it done and ask them to show you where the shutoff switches for each system are in case you need to turn off your home utility valves during an emergency. Use your home inspection report to plan for any future upgrades to your systems and structural parts of your home. Developing a home maintenance checklist will extend the life of almost everything in your home, saving money over time.
Direct Energy understands that your new home is your most valuable investment. That's why we offer more than lights - we also provide reliable services to protect and preserve your home. In addition to plumbing, HVAC, and electrical services, we also offer home protection plans and home warranties to safeguard your home's vital systems and shielding your budget from unexpected home repair costs.
By following these simple tips, you will be prepared to have a less stressful, more organized moving day and be able to settle into your new home with ease.