The Importance of a Properly Installed Air Conditioner
Investing in a new energy efficient air conditioning system can be a complex process. Fundamentally, the best air conditioning system is one that handles your home's heat load efficiently for the least cost. However, a poor installation can cost you more in the long run, so you shouldn't trust just anyone with the high voltage electrical and gas burning equipment in your home. A guy with a truck off the street might be cheap, but when it comes to the safety and quality of his work, your family probably can't afford it. You want a professional job done right the first time.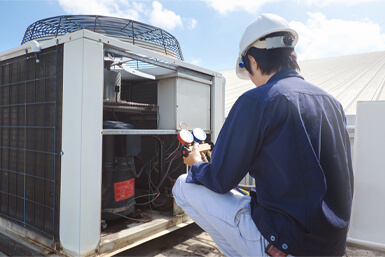 The Importance of a Professional Installation
A properly installed air conditioner or furnace helps to:
Ensure that comfort levels are met
Keep equipment running to manufacturers' specifications
Reduce on-going service costs
Extend the life of the unit
Create less noise when running
What's more, having air conditioning doesn't just keep you and your family comfortably cool and dry. It can also protect your home. Since heat and humidity can swell wood furniture, flooring, molding and structural beams, this can eventually cause serious damage. Summer weather also makes basements damp and can spread mold or mildew.
Don't take a chance when it comes to your safety and get a strong start from the beginning by hiring only experienced, credentialed professionals to install your HVAC equipment.
The Risks of Inadequate Installation
Today's HVAC systems deliver highly efficient heating and cooling only when they are installed correctly. When installed improperly, they deliver poor performance and expensive headaches down the road.
For your home's HVAC system to work efficiently, your heating and cooling loads need to be accurately assessed. Since these loads vary from room to room, the output from both the heating and air conditioning components must be correctly matched to your home's size. The amount of air flow through the space must also match the capacity of the blower (or fan). And lastly, the ductwork must be properly sized to evenly distribute heating and cooling throughout your home without substandard short cuts that introduce dust or mold.
Even if the system is designed by a professional, the installation job can be bungled by someone who lacks the right training. You might find someone who promises to complete the installation for a cheaper price, but remember that an efficient HVAC system is an expensive investment in your home's value and your family's comfort and safety. You don't want to jeopardize its function, and possibly cost yourself more money later on, by opting for a questionable installation job.
Your Home: Uniquely Complex
Your home is unique. It has its own heat load that defines its own unique cooling needs. Heat load is not determined by square footage, but is calculated by taking into account the area of exposed walls, the type of and glass-area of windows, the amounts of insulation throughout your home, shading from trees and the total volume of your home. The capacity of the air-handling system (or blower) and duct work must also be correctly matched. Most important, however, is selecting the right size and efficiency of the air conditioner unit (or condenser). Air conditioner condensing units are rated in tons of cooling capacity to describe its maximum rate of removing heat from a conditioned space.
Capacity is expressed in British thermal units (BTUs) per hour. One ton of cooling is equal to 12,000 BTU's (British thermal units). So, a typical residential 2 ton unit cools 24,000 BTU/hour. But while two air conditioners might be rated for the same tonnage, they could be completely different in terms of their energy efficiency or Seasonal Energy Efficiency Rating (SEER). Older, less efficient systems may have a SEER rating between 10 and 12. New high-efficiency ENERGY STAR® qualified units can have a SEER rating up to 20. That difference in energy efficiency could mean hundreds of dollars in energy costs each year.
What to Look for From an HVAC Technician
Matching the right system to your home's needs begins with a visit from an experienced HVAC expert. Ideally you want someone with years of training and experienced with current equipment who can tell you about different cooling options for your home and how each will work with your home's heating system. These experts can design and recommend the right energy efficient cooling system to reduce your home energy usage and save you money.
Before you sign a contract with a company to handle your HVAC installation, ask about what type of education, apprenticeship and licensing requirements their technicians are required to pass. Ensure that they are familiar with current electrical code and are trained in the safe handling of R-410A refrigerant used in all modern air conditioning systems. Team members should also be trained to use Personal Protective Equipment (PPE) when needed and hold G2 licenses (Gasfitter 2nd Class) , which means they are certified to work safely on any kind of residential, commercial or industrial gas system or appliance. They should know how to safely install reliable systems according to manufacturer specifications whether it uses high voltage electrical or gas burning equipment. They should also know how to set-up and tune the system to get the optimal performance for best lifespan, efficiency and comfort.
What to Expect on Installation Day
Even with a perfectly designed system, you want the installation job done right the first time. A good technician will explain to you all aspects of the job before they start on the work. This may include drilling holes for new duct runs, coolant lines or wiring. They should also explain whether any other household systems might be affected, such as water heating for Hydro-air systems or if any circuit breakers will need to be turned off and for how long. Installation is often messy work.
Because every home is different, professional installation teams fabricate and custom-fit all their own metal ductwork, coolant supply lines and gas supply lines. This ensures that all system components fit and function properly according to manufacturers' specifications and give you years of trouble-free comfort. They make certain that all new equipment runs to the manufacturers' specifications, the right comfort levels are met and limited noise is made when the system is running. By double-checking everything from blower mounts to pipe connections to wiring, professional technicians reduce or eliminate future service costs and extend the life of the whole unit.
When the installation is over, make sure the team will thoroughly clean the entire work site and pick up all scrap pieces. They should remove all discarded pieces of the old system, such as plastic pipe, metal duct work and circuit boards, and take them to a recycling facility.
Learning to Use Your New HVAC System
The installation team's job is not over until they know you are completely satisfied. A team leader should take the time to explain the system, what you should expect during start up, running operation and shut down. Ask them to guide you through using the new programmable and smart thermostats, suggest routine AC maintenance tips, and answer any other concerns or questions. A newer energy efficient air conditioning system protects and adds value to you home, but only if it's been properly installed. Your home is unique, and so is your comfort, convenience and lifestyle.