What to do During a Hurricane
If you're staying home, here's what you should do: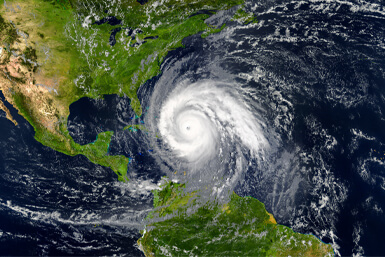 Monitor the radio or television for weather conditions.
Do not go outside, even if the storm appears to have subsided. The calm or "eye" of the storm can pass quickly, leaving you outside when strong winds resume.
Stay away from all windows and exterior doors and seek shelter in a bathroom or basement. Bathtubs can provide some shelter if you cover yourself with plywood or other materials.
Evacuate to a shelter or a neighbor's home if your home is damaged or if you are instructed to do so by emergency personnel.
If power is lost, turn off all major appliances to reduce the chances of damage of a power surge.
Do not handle electrical equipment and do not use the telephone except in an emergency.
Regardless of whether you stay or leave, it is important to unplug appliances and electronics, and remove air conditioner fuses to avoid damage caused by power surges when lines and power are restored.
---
Storm Safety
Make sure shed doors are closed tightly: otherwise, they could end up blowing off their hinges and becoming dangerous projectiles.
Bring in flags, awnings and house ornaments. (wreaths)
Don't leave cars parked under trees (especially if you may be in the car when the storm strikes!).
Check pool covers to ensure that they are secure.
Be alert for Tornadoes.
Storm surge flooding. These high waves can be more deadly than hurricane winds. Leave the coast and stay away from low-lying areas.
Do not use candles during the storm, stick with battery operated flashlights.
---
A storm may be approaching, so you are probably in a hurry. All you need to help you and your family handle a hurricane is available below for easy download. Select what you need, print and get back to more important things like ensuring the safety of your family before the storm.
Hurricane Toolkit