4 Easy Ways to Encourage Recycling at Home
When you look around, it's easy to see the increased prominence of recycling in our society. Brightly-colored eco-friendly material bins sit next to their garbage cousins on trash day, and recycling receptacles are placed in close proximity to vending machines or printers in most offices. Even the 'trash' can on your computer's desktop has been replaced with a recycling container. As this environmentally friendly practice continues to grow in importance, it will play an even greater role in the lives of your children, so it's a good idea to get them off on the right foot towards recycling.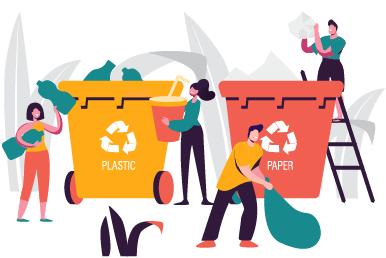 Here are some simple (but effective) ways you can move your family towards your green home goals.
1. Keep it simple.
If you want your family and especially your children to start recycling, you'll have better success if you make it easy for them. Set your family recycling cans in a high-traffic area, preferably near the garbage can. If you need to separate your recyclables in your area, make sure each can is prominently marked to help your kids.
2. Set clear goals.
Understanding recycling and its impact on the environment can be difficult for small children. Instead, provide them with a tangible goal such as throwing out no more than three bags of trash each week. Keep track of each successful week and treat your family to pizza at the end of a good month. Your kids will work hard towards the goal and you'll make their at home recycling a pleasurable experience.
3. Work with them to conserve.
Sometimes materials can be recycled without ever going into the recycling bin. Work to teach your kids not to be wasteful with the materials they already use. Teach them to draw on both sides of their paper or write on both sides in their notebook. Instead of providing them with a new cup each time they want a drink, encourage them to use the same cup throughout the day. You can also set a positive example by taking clothing or toys your children have outgrown and donate them to a local charity, rather than simply throw them away.
4. Let them share in the profits.
If your area offers a financial refund for recycled bottles or cans, split the profits among your family members. Your children will appreciate this source of income and it will make them even hungrier to recycle in the future.