Frostbite and Hypothermia: How to Prevent and Treat Them
Winter weather may have us daydreaming about hot cocoa and sitting by the fire, but some aspects of the season aren't so warm and fuzzy. When circumstances force us out into the elements, exposure to the cold can endanger our health if we don't take proper precautions.
Frostbite and hypothermia are the two most common health dangers related to exposure to the cold. Depending on the severity of the exposure, these conditions may set in quickly. And due to the characteristics of both conditions, they can set in without the victim being fully aware.
If you plan on braving the cold, it's a good idea to familiarize yourself with the symptoms, preventative measures and treatments associated with both frostbite and hypothermia.
Frostbite: When Low Temperatures Attack Your Tissue
What Is Frostbite?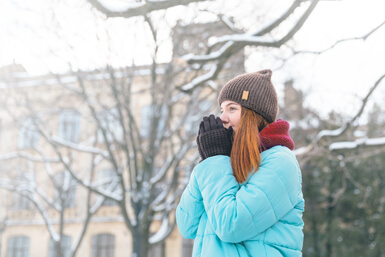 Frostbite is when parts of our body are exposed to low temperatures or chilly winds for a long enough time that ice crystals can begin to form in the tissues closest to the surface. Without a source of warmth, the ice formation can spread and penetrate into deeper tissue, restricting the flow of blood and reducing the supply of oxygen. This can eventually damage or even kill tissue, which may result in amputation.
What Are the Symptoms of Frostbite?
Frostbite can normally occur at freezing or below freezing temperatures (32F or below). Your risk of frostbite is relatively low at just below freezing and increases as the temperature lowers. Windchill can lower the overall temperature and increase your risk.
The most commonly frostbite-stricken parts of the body are the nose, ears, cheeks, chin, fingers and toes. If any of these areas are directly exposed to cold winds and low temperatures, or if a person has poor blood circulation, frostbite is more likely to occur.
The earliest symptom of frostbite is pain or redness in the affected area. As it worsens, the affected tissues can become numb and the pain can stop, which is why it's important to heed the early warning signs.
More advanced symptoms of frostbite include:
Reduced fine motor control of fingers and toes
Burning or tingling sensations
Tissue that feels firm or waxy
Tissue that appears white, blue or gray
Blistering
How to Prevent Frostbite
The most effective way to prevent frostbite is to stay indoors, but since that's not practical advice for everyone, the key is to dress appropriately and limit outdoor time as much as possible.
In addition to wearing a heavy winter coat, you should wear special protection for your head, face, fingers and toes. This can include a winter cap that covers your ears and a scarf for your face, or a full-face ski mask and hood. Heavy mittens or layered gloves are good for protecting fingers, and keeping your hands in your coat pockets when possible can offer more protection. Layers of warm socks and waterproof boots are the ideal footwear.
The longer you expect to remain outside, the more prepared you need to be with your winter gear. Retreat to a warm area every so often if you can.
How to Treat Frostbite
As soon as you notice the pain and redness associated with superficial frostbite, move to a warm area. Superficial frostbite won't cause any permanent damage. If you're experiencing any of the more advanced symptoms of frostbite, you should seek medical attention as quickly as possible.
While you're waiting for or transporting yourself to medical care, try to avoid pressure on the affected areas to the extent possible, as this can cause additional damage. Fingers and toes can be gently immersed in warm water. Elevating the affected areas and removing restrictive clothing can help encourage blood flow. Because tissues may be numb, you must use care in warming them up, as you might not immediately notice burns developing. Avoid using fire or high, direct heat.
Hypothermia: A Life-Threatening Emergency Condition
What Is Hypothermia?
Hypothermia is a condition of extremely low body temperature. If a person's temperature is measured at 95 degrees Fahrenheit or lower, that person is suffering from hypothermia. Hypothermia can be fatal and it demands immediate medical attention. Infants and seniors are more susceptible to hypothermia than older children and adults.
What Are the Symptoms of Hypothermia?
Most cases of hypothermia occur in extremely cold temperatures, but it's possible for hypothermia to set in at temperatures several degrees above freezing, especially if the victim is wet or completely exposed. When does hypothermia set in? In cold temperatures, the body uses stored energy to generate its own heat, and hypothermia begins around the time those energy stores become depleted.
Telltale symptoms of hypothermia include:
Severe shivering
Exhaustion
Drowsiness
Loss of motor control
Slurred speech
Shallow breathing
Irregular heartbeat
Hypothermia also affects the brain, often resulting in confusion and memory loss. This aspect of hypothermia makes it especially dangerous, because sufferers may lose their ability to direct themselves to warmer areas or medical care.
In the very late stages of hypothermia, suffers may feel extremely hot, even though their body temperature is dangerously low. Combined with the confusion caused at this state, it sometimes results in sufferers removing their protective winter clothing.
How to Prevent Hypothermia
Hypothermia prevention is straightforward: stay warm. Dress in warm winter gear as described above when you're outdoors and limit outdoor exposure as needed to keep your body temperature in a safe range.
If you have plans to be outdoors in low temperatures for an extended period of time, such as camping or hunting in winter or mountain climbing at high elevations, take all necessary safety precautions and arrange for a way to call or signal for help if needed. Tell your loved ones where you're going and when you'll be back.
How to Treat Hypothermia
At the earliest signs of hypothermia, get to a warm place and call for medical attention if possible. Remove any wet clothing and wrap yourself in layers of dry blankets. Skin-to-skin contact is also an effective source of warmth. Warm, non-alcoholic beverages can speed up the warming process.
A person with severe hypothermia may be unconscious and must be brought to a warm place as gently as possible. Cardiac arrest is possible in this stage, and a person who shows no immediately recognizable signs of life may be able to be revived. CPR should be administered once the victim is in a warm environment and as necessary until medical assistance is available.