Could Your Next Vacation be an Ecotourism Adventure?
Most of us could get used to the idea of lounging poolside at an all-inclusive resort, tropical cocktail in-hand. Others may love romping through a bustling, unfamiliar city. But one type of getaway that's growing swiftly in popularity -- ecotourism -- offers a completely different vacation experience.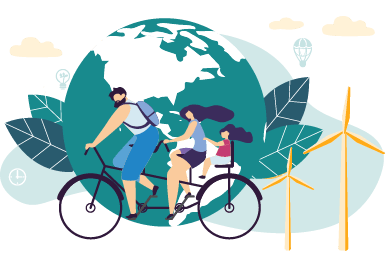 Ecotourism sends travelers to places that are relatively untouched by mankind, where they can explore environments that are wild, undisturbed and often threatened. While such places have been harmed by mass tourism in the past, ecotourists visit these sites in the most responsible ways possible. The goal is to not only do no harm, but to help these fragile natural treasures thrive through the generations.
There are numerous examples of ecotourism that range from weekend getaways to deep-jungle expeditions, which can make this type of travel challenging to define. But to give you a better idea of what ecotourism is all about, the International Ecotourism Society identifies these eight guiding principles for aspiring ecotourists and their hosts:
Minimize physical, social, behavioral, and psychological impacts
Build environmental and cultural awareness and respect
Provide positive experiences for both visitors and hosts
Provide direct financial benefits for conservation
Generate financial benefits for both local people and private industry
Deliver memorable interpretative experiences to visitors that help raise sensitivity to host countries' political, environmental, and social climates
Design, construct and operate low-impact facilities
Recognize the rights and spiritual beliefs of the Indigenous People in your community and work in partnership with them to create empowerment
A Few Examples of Ecotourism
The most successful ecotourism experiences are those in which everyone buys into the ethos of ecology, learning and sustainability. Some destinations, like Costa Rica, make it easy to assemble the team of guides, drivers, innkeepers and other local service providers who can ensure your trip is eco-friendly. Just look for the Certificate of Sustainable Tourism (CST) when booking, and you can plan your own adventure among the exotic plants and wildlife that make up Costa Rica's biodiverse paradise.
One especially popular ecotourism destination is the chain of Galapagos Islands off the coast of Ecuador. Immortalized in Charles Darwin's accounts of exploration and evolutionary science, these islands remain a uniquely fascinating site for nature lovers, especially those who seek ways to preserve such unspoiled nature for future generations.
Not all countries and regions have such well-developed ecotourism programs, however. And if you're not an experienced travel planner yourself, you might want to plan your first ecotourism adventure with the help of a travel company that specializes in these experiences. Travel agencies like Intrepid Travel and Holbrook Travel help travelers ensure that their trips adhere to the principles of ecotourism, offering one-stop shopping for travel experiences that span the globe.
No Matter Where You Go, You Can Go Green
Not the outdoorsy type? Ecotourism isn't everyone's cup of tea, but even if you prefer amusement parks and metropolises, there are steps you can take to make your trip as eco-friendly as possible:
Pack efficiently: Lighter loads mean less fuel consumption, whether you're driving or flying. And while you're packing, throw in reusable items you'll need every day, like a water bottle.
Power down before you leave: Remember to turn off lights, adjust the thermostat, set your water heater to "vacation" mode and take other steps to conserve energy while you're away.
Take public transit: Ditch the rental car and rely on light rail and buses wherever possible to reduce emissions.
Go paperless: From your airline tickets to your hotel check-in, look for paperless options.
Fly nonstop: It's easier said than done, depending on your point of origin and your destination, but nonstop flights can dramatically reduce the carbon footprint of your air travel.
Save energy at your hotel: Just because you're not paying the bill doesn't mean you should be wasteful. Turn off lights when they're not needed, and set the thermostat to a reasonable temperature.
Whether you devote your next vacation to saving a piece of our precious planet or you take a more conventional trip in an eco-friendly way, travel safe and have fun!