How to Go Green When You Clean
Spring cleaning isn't always the most environmentally friendly practice. Those paper towels that scrub away the dirt and the grime find their way into the trash and the landfill, while many of the chemicals you use are actually more harmful than the dirt itself.
But after a long winter cooped up in your home, you can't put off your spring-cleaning projects any longer – and you don't have to. Simply employ these green spring-cleaning tips, and your work will be as satisfying as it is environmentally friendly.
Make green spring-cleaning products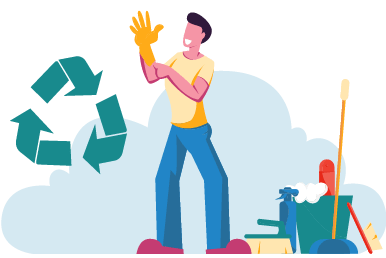 There's more than one way to clean a home, and for those who would like to avoid harsh chemicals, you have options. Before you pick up your next store-bought spray bottle, try these natural, homemade cleaning solutions instead.
Combine 1 part baking soda and 2 parts vinegar with 4 parts water for a great tile and countertop cleaning solution. Apply with a sponge and wipe clean with a cloth towel.
You can make glass cleaner by mixing a quarter cup of vinegar with a quart of water inside a spray bottle. Apply to your windows and then wipe down with a lint-free cloth.
Clean your floors by combining 4 cups of white, distilled vinegar and a gallon of hot water. You can also add a few drops of lemon oil to leave a pleasant aroma on your floors.
An equal mixture of olive oil and lemon juice makes a great green-cleaning option for wood furniture. Dab a little on a cloth rag and apply it to your furniture with smooth, even strokes.
Applying baking soda to your toilet brush makes for a simple toilet bowl cleaner, and scrubbing your toilet with borax disinfects it. To clean the outside of the toilet, apply straight vinegar to a cloth, and wipe appropriately.
Other green-cleaning projects
Homemade cleaning products are only part of the job. Here are some other cleaning tasks you can complete in an environmentally friendly manner.
De-clutter your home by removing excess possessions. When you do so, don't throw it all away. Donate, give away, or sell whatever has value, and recycle as much of the rest as possible. At the end, throw away only what you must.
Avoid using paper towels, cleaning pads, and other commercial products you'll throw away after you've finished. Instead, keep old shirts or other cloth material for use as rags. Even clothing you no longer wear can still be useful.
Hang your clothes outside to dry. You'll reduce your energy consumption by not using the dryer, and give your outfits that fresh clean air scent.
Update your appliances. If replacing one of your appliances is on your spring cleaning to-do list, make sure to replace it with an Energy Star model that reduces total energy usage and saves you money on your electricity bill. After the new appliance is in the home, don't throw the old model away. Instead, research your recycling options for a green alternative.
Spring cleaning can be green if you focus on tackling these projects in an environmentally friendly manner. Start by outlining what you want to get accomplished in your spring cleaning and then determine if there is an environmentally friendly way to complete the task. You'll be surprised at how many options are waiting for you.