Help Your Children to Think Green
The decisions you make every day reflect your values to reduce waste and think green. You use energy-efficient appliances in your home, you recycle, and you do what you can to reduce your carbon footprint. Living green is important to you, so you want your kids to live green as well. After all, the habits and values that you pass down to your descendants could prove to have an even greater impact than the behaviors that you uphold in your own life.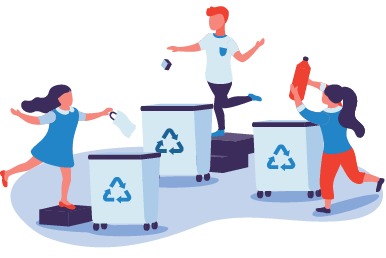 So how do you encourage conservation for kids? The good news is that becoming a green family is easier than you think. The following tips for teaching kids about energy provide easy ways to involve your entire family and foster a new generation that thinks green.
Set a positive example: If you want your children to think green, living green in front of them is a great teaching tool. This means acting green no matter what - even if you have to hold on to that water bottle or can for an hour and pass 100 trash cans before you actually find a recycling bin. Remember: your kids will mimic your actions, so make sure those actions are positive.
Encourage them to learn more about conservation: Thanks to your behavior, your kids hopefully understand the importance of conservation, and this has them thinking green. Support those ideas by opening up additional educational opportunities related to conservation for kids. Contact your children's school or your area community center to find out if there are any programs available. State parks or wildlife refuges are excellent resources for teaching kids about energy and conservation as well.
Spend more time outdoors: Every hour you spend outdoors with your children is more time that they aren't playing video games, watching television, or using up other utilities. More importantly, however, is the notion that if your kids grow to appreciate the natural world around them, they will be more likely to think critically about their behavior indoors and out and how it affects the larger environment.
Every drop counts: An upcoming rainstorm is an excellent opportunity to teach your kids to think green. Before the storm hits, collect buckets and place them outside. Then, once the storm is gone, ask your kids to use the collected rainwater to water the garden or the flowers. Your children will appreciate that not even rain is wasted.
Ditch the car for a day: Sometimes, the speed and convenience of a car is too important to pass up, but walking, biking or taking public transportation whenever possible can be very useful in teaching kids about energy, while encouraging exploration of their surroundings at the same time. Whether to run errands, make an appointment, or just for recreation, car-free transportation is a fantastic way to facilitate conservation for kids.
Use recycling day as an opportunity to spur their creativity: If your kids are actively recycling in your home, then congratulations! Your family is already thinking green. Motivate your children to think creatively about the things they recycle by grabbing items from the recycling bin and encouraging them to conceive of new ways that these items can be used. You may even find a new use for some of your family's recycled items, keeping them from being thrown out at all. Now that's green living.
Hopefully, these ideas will get your kids (and maybe the rest of your family) to think green - and do it with some fun and ingenuity. Soon, they may be coming up with their own schemes to cut down on energy consumption around the house.