How to Choose an Air Conditioner
It can be hard to put a price on comfort. But if your home is sweltering due to a lack of air conditioning, that's what you'll have to do. There's much more to buying an air conditioner than simply choosing between central air and window units, and choosing the wrong system can come at a high cost. Use this air conditioner buying guide to start the process right.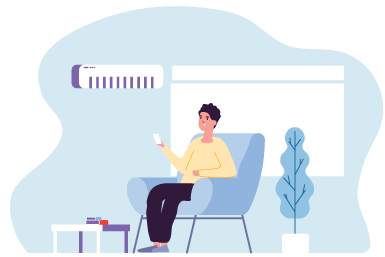 Define Your Budget
Air conditioners are expensive, and the amount you're willing to spend will make a big difference in the type of air conditioner you're able to buy. If you want to install a new central air system, expect to spend anywhere from $3,500 to $7,500, depending on the size of the unit and the complexity of the installation. But that doesn't include ductwork, so if you're retrofitting an older home that has never had central air, the grand total could be thousands more. On the lower end of the spectrum, prices for window air conditioners start at around $150.
Professional HVAC installers often don't expect their customers to be able to pay for a brand new system in full, and many therefore offer financing options. So if you're planning on a major purchase, be sure to ask about payment plans when you call around for quotes. Alternatively, you could seek pre-approval for a bank loan or home equity line of credit before you shop around. If you're able to pay in full, some installers may offer you a discount.
What Type of Air Conditioner Do I Need?
Before you can start comparing individual models of air conditioners, it's important to consider the broad types of systems and determine which is the best fit for your home. Most air conditioners fit into one of these five categories:
Split Central Air Conditioning Systems: This is the most common type of air conditioning in modern homes. The "split" refers to the two main components -- the evaporator coil is inside the house, and the condenser is installed outside. Cool air is moved all over the house through a ductwork system.
Ductless Mini-Split Systems: This is a good solution in homes that lack ductwork or where only a few rooms need to be cooled. In a mini-split system, each room that needs cooling gets its own evaporator and condenser system installed near the top of an exterior wall. In addition to making ductwork unnecessary, this system allows different temperature settings in different rooms.
Window Units: These units are comparatively inexpensive and installing them is a DIY job. You may need one unit in every room to cool an entire home. They can be noisy and the cost of operating multiple window units can add up, but they provide the cheapest way to get cool air flowing in your home.
Portable Indoor Units: Portable air conditioners are priced and sized similarly to window units. The primary difference is that instead of the entire unit fitting in the window, the air conditioner sits on the floor and only the hot air exhaust is vented out the window. This makes them easier to move around indoors or use in rooms with oddly shaped windows.
Heat Pumps: A heat pump isn't exactly an air conditioner, but it can be used to heat and cool most homes. Heat pumps work by moving hot air around, pushing it outside in the summer and pulling it inside in the winter. They operate similarly to split systems, which means ductwork is required. Heat pumps cool effectively but can struggle to provide heat in colder climates.
What Size Air Conditioner is Right for You?
No matter which type of air conditioner you choose, sizing the system to your home is crucial. This is especially true of central air systems where one unit is responsible for cooling the entire house.
If the air conditioner is too big, it will cycle on and off too often, which causes three major problems: it will leave your home feeling damp and clammy, it will consume too much electricity, and it will wear out moving parts prematurely. If the unit is too small, it will run continuously without ever fully cooling your home, leaving you uncomfortable and still facing high utility bills.
For central air, heat pumps and mini split systems, you should rely on an HVAC professional to properly size a system to your home. They'll not only consider your home's size, but also the design of your ductwork, the square footage of your exterior walls and windows, the amount of shade your home receives and the quality of your insulation.
For window units and portable units, you can determine the right size based on the size of the room you want to cool. These units are rated by BTUs, or British Thermal Units. The higher the BTU rating, the greater the cooling power of the air conditioner. How many BTUs do you need? As a general rule, you want about 20 to 25 BTUs of cooling power per square foot of room space. The ENERGY STAR program offers a BTU chart in its air conditioner buying guidance, along with instructions for measuring the square footage of your rooms.
Plan Ahead for Installation
A final word of advice: if you can, buy your air conditioner during the cold weather season. This is when you're most likely to get a great deal. If you must buy your air conditioner in the heat of summer, you may encounter premium prices, out-of-stock models and long wait times for scheduling installation.