How to Choose the Best Generator for Your Home
Power outages can leave your home uncomfortable, dark and potentially unsafe. If you're determined to avoid this fate, it may be time to buy an emergency generator. But before you drive to the hardware store to see what's on sale, take some time to map out your needs, budget and other concerns. An emergency generator is a high-involvement purchase, and it's worth making a plan to ensure you choose wisely.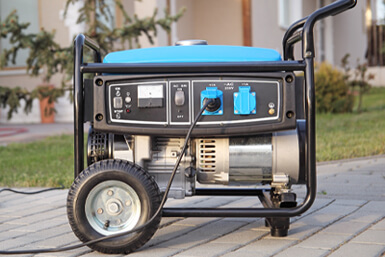 Is an Emergency Generator Right for You?
An emergency generator can be a life-changing upgrade for some households, but it's not the right solution for every home. Ask yourself a few questions to make sure a generator is a practical and cost-effective way to stay connected:
Do you have space to store and operate a generator? Portable generators must be operated 15 feet or more from the nearest occupied structure to avoid carbon monoxide sickness. When not in use, they're best stored in a garage or shed. If you live in a multi-family apartment, there may not be a safe and practical way to set up a generator.
How often do you experience power outages? The more frequent they are, the greater your need for backup.
How long does it take for your power to be restored? If you live in a remote area, it can add days or weeks to the length of some power outages.
Could a power outage lead to medical concerns? If someone in your home relies on electrical medical equipment, having a generator may be critical.
What devices and appliances do you consider essential? If all you need to survive for a few days is a fully charged smartphone, you may be able to save several hundred dollars by getting a solar charger instead.
What Size Generator is Best for Your Home?
If you're sure that a generator is right for you, the next step is to consider your electrical needs and your budget to find the best generator for your home. It's helpful to deal with these questions simultaneously because more powerful generators are also more expensive. If your budget is $10,000 or more, you can likely afford a standby generator that will power your entire home for days. But if your budget is more like a few hundred dollars, you'll need to prioritize which appliances and electronics need power the most.
A starting budget for a portable generator is about $300 to $400. That will get you something in the 3,000-watt range, which is usually enough to power a refrigerator, a small window air conditioner and a few lights and electronics. Portable generators increase in wattage and price up to around $2,000 or more for 8,000 to 12,000 watts of power, which could be enough to keep your whole home running.
Standby generators are more expensive, but also more convenient. They're permanently installed outside your home and usually activate automatically when power is interrupted, sparing you the hassle of setting up and fueling a portable unit. Standby generators start at around $3,000 and can be as expensive as $20,000 for the largest models.
If the biggest generator within your budget isn't enough to power everything you want, it's time for some tough choices. You'll need to add up the wattages of your highest-priority appliances one by one until you approach the wattage limit of the generator you're considering. Most generator manufacturers and retailers offer calculators and charts to help you with this step, such as Honda Generators' wattage calculator and Lowe's wattage chart for Generac generators.
Calculating your wattage needs can also help prevent you from buying a bigger generator than you really need, which could keep hundreds or thousands of dollars in your pocket.
How Much Does It Cost to Install a Generator?
It's also important to consider costs beyond the price of the generator itself. With standby generators, installation generally ranges in price from $1,000 to $6,000, so it can roughly double the overall cost of the typical model. With portable generators, you may want to have a transfer switch professionally installed, especially if you're using a generator that is 5,000 watts or larger. A transfer switch is installed directly to your circuit panel and allows you to safely power your home's existing circuits through your generator. Depending on the labor required, this can add $200 to $800. Other costs associated with portable generators include generator-rated extension cords, rain tents and fuel.
When to Shop for a Generator
Once you've resolved to buy a generator, make the purchase before you really need it. In areas that are prone to severe and tropical storms, there's always a rush to buy generators at retail, which can lead to low supplies and high prices for shoppers. Avoid the competition and get the ideal generator for your home by buying ahead of time.
How to Safely Connect Appliances to a Generator
Just keep in mind that most appliances have a "starting wattage" and a "running wattage". When an appliance initially starts up, it uses a large burst of electricity -- that's the starting wattage. After this spike, the appliance settles at its running wattage. For this reason, it's helpful to turn on appliances one at a time after connecting a portable generator, starting with the appliances that have the largest starting wattages. If you're cutting it close with your wattage limit, it's possible to accidentally overload your generator by starting up one last appliance.