What is LEED Certification?
Sustainability is a passion and a way of life for many people. But for all of the day-to-day green living efforts you might employ, sometimes you need to step back and look at the big picture. Efforts to infuse our built environment with eco-friendly features up-front can pay dividends in reduced energy consumption for decades on end. This is where LEED Certification comes into play, a set of standards that encourage small environmental footprints in new and existing residential, commercial, and industrial buildings. Read on to learn more about LEED's meaning and how these standards can help you set a foundation of sustainability for the rest of your life.
How Does the LEED Certification Process Work?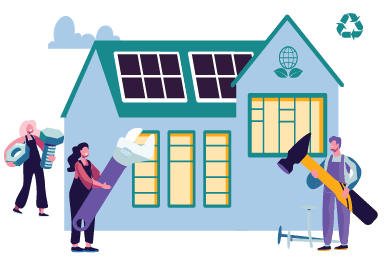 When you want to build or remodel a home or business to achieve LEED Certification, you work with a team from the USGBC for evaluation and certification. For each area of sustainability, the project scores one point. For example, a project may earn points for using recycled wood or installing a small wind generator. Depending on the number of points a project gathers up, the building can be designated as Certified, with higher rankings of Silver, Gold, and Platinum.
Different types of buildings follow different tracks to achieve their certification. In general, the builder or owner needs to register with the USGBC, pick which standards the building will pursue, then submit the finished product for verification. Certification is also available for groups of multiple buildings at once, although the entire portfolio must still meet the standards.
What Makes a LEED-Certified Building?
The exact meaning of LEED depends upon the type of building you're working on and whether it's new construction or a renovation, with each of the of available options coming with its own defining requirements. For one revealing example of new residential construction, try a virtual tour of this new home in Connecticut. Its features include triple-glazed windows, solar panels to heat water, and photovoltaic panels to power the energy-efficient light fixtures and top-rated Energy Star appliances.
Beyond the basics, real sustainability enthusiasts will appreciate the exterior siding being made from local white cedar abundant in the Northeast, while the roof shingles are made of recycled rubber and plastic. Inside, the kitchen cupboards are made of reclaimed oak, and the countertops are cement made with recycled glass. In the winter, the great room's concrete flooring is warmed by the sun and inlaid hot-water tubing. These are just a few of the possibilities that a builder can pursue when seeking out LEED certification. If you are interested in other examples, the USGBC maintains a list of homes, businesses, and government buildings in your city or state that are LEED Certified.
What Does LEED Mean for Me?
In addition to lowering the environmental impact of a building, LEED has the potential to bring major savings to businesses and individuals, since these constructions use so many fewer resources for their home systems. While the typical household spends $2,150 on annual energy bills, a LEED Certified house is designed to reduce energy use from 30–60 percent, meaning every year you stay in your LEED home you save more and more money. In addition to the energy savings, green certified homes can also fetch higher prices on the market, helping you recover even more of your investment if and when you decide to sell.
If you are interested in sustainability in your living environment, there are few better pathways to follow than pursuing the possibilities unlocked by the LEED certification process.