The Players in the Ohio Natural Gas Market
Natural gas deregulation set up a whole new landscape of different organizations and designations that can still bewilder energy consumers. Yet, in order to be able to make smart natural gas energy choices, consumers need to know who does what. Below is a list of organizations and designations in the Ohio natural gas market to help consumers cut through the jargon and start finding the natural gas plan that fits their needs.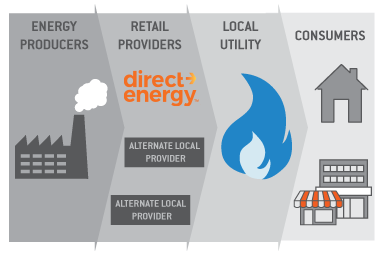 Governance & Oversight
The Public Utilities Commission of Ohio (PUCO) is responsible for regulating providers of all kinds of utility services — even railroads and trucking companies. In particular, PUCO oversees standard service offer (SSO) plans by the state's approved four natural gas utilities or "local distribution companies" (LDC's). For Ohio energy customers, PUCO also operates the Energy Choice Ohio website, where customers are able to shop and compare different energy plans to LDC rates.
PUCO regulates the natural gas distribution rates, monitors the market-based rates charged for natural gas supplies, and ensures that companies provide quality, safe and reliable natural gas service, including installation, metering, billing and customer service.
Ohio's Energy Choice Local Utilities
Of the 24 LDC's that distribute natural gas throughout Ohio, only four natural gas utilities participate in natural gas energy choice:
These utilities at one time both supplied and delivered natural gas to consumers. Today, you can still choose one of these four LDC's as your supplier. But whether you choose have your natural gas supplied by your local utility at the PUCO regulated rate or from a competitive supplier, your gas will still be delivered through the same utility's local distribution pipeline system. These LDC's are still responsible for maintaining the reliability and safety of the natural gas distribution network in your area. If you smell gas or have other safety-concerns about your gas service, you still need to contact your local gas utility.
Because LDCs do not have exclusive territories in any one county or region, it can be confusing to determine which one you have for your Ohio home, and many service areas overlap. To find your local natural gas utility, visit the PUCO Apples to Apples website or get an idea on PUCO's service area map.
Natural Gas Government Aggregators
Ohio law allows local communities to join their citizens together to buy natural gas as a group and on the group's behalf and negotiate the terms, conditions, and price of the natural gas supply. Most governmental aggregation programs are "opt-out" programs which automatically enroll all local residents, unless they individually and actively opt out of the program. Natural gas aggregation customers may opt out every two years without paying a switching fee.Click here to find out if you live in a community with local government aggregation.
LDC Prices versus Retail Market Prices
Each year, Columbia Gas of Ohio, Dominion East Ohio and Vectren Energy Delivery of Ohio conduct auctions (overseen by PUCO) to secure natural gas supplies for customers who do not participate in the retail choice program. The auction establishes a Standard Choice Offer (SCO) rate for choice-eligible customers. The SCO rate is based on the NYMEX month-end settlement price for natural gas, plus a retail price adjustment determined in the auctions. The retail price adjustment reflects the winning bidders' price to deliver natural gas from the production area to the utility's service area.
Duke Energy sets its natural gas prices on a monthly basis to better reflect the current cost of gas. This is known as a Gas Cost Recovery (GCR) rate to provide a dollar-for-dollar recovery of costs to purchase natural gas.
Competitive retail natural gas suppliers (like LDCs) have to pay for gas, storage, and transportation many months before it is even needed for consumer use. In Ohio, market prices are set at the local city gate (typically a gas pipeline hub or interchange). The interstate Dominion Transmission Company and Columbia Gas Transmission Company systems are the predominate pipeline systems and include 15 underground natural gas storage sites. Both LDCs and Retail Suppliers also have access to gas locally produced and piped directly to the local utility without intermediate delivery costs through an interstate transmission pipeline.
Retail Suppliers don't rely on annual wholesale auctions. They shop for the best natural gas at market prices all the time. By shopping competitively, Retail Suppliers can choose options to fix the natural gas and transmission delivery price to the city gate for specific length of time, for example one year. Or, they could purchase gas based on the fluctuating market price and transmission delivery. Or, they can use one strategy to hedge against costs against the other. They have many options open to them to help keep their prices low.
So, while the Standard Choice Offer (SCO) offered by your local utility might have a low rate this month, remember the SCO is based on the NYMEX month-end settlement price for natural gas, plus a retail price adjustment determined at their annual auction. The SCO rate could go down the next month or go up — it depends on the weather, the supply of natural gas, gas transmission issues, and the temperament of the gas commodity market itself.
Meanwhile, customers who choose a Competitive Retail Natural Gas Supplier and lock-in a low rate in advance of winter will avoid monthly variability and save money during bitter winter weather. Longer term contracts can avoid SCO rate increases altogether.
Competitive Retail Natural Gas Supplier
This person or company is engaged in a for-profit (or not-for-profit) basis business of supplying or arranging for the supply of a Competitive Retail Natural Gas Supply (CRNGS) to consumers in this state that are not mercantile customers. "Retail natural gas supplier" or "Retail supplier" includes a marketer, broker, or aggregator, but excludes a natural gas company, a governmental aggregator, a billing or collection agent, and a producer or gatherer of gas that is not a natural gas company.
An Aggregator is a Retail Supplier that combines the natural gas load of multiple retail residential customers or small commercial customers via an agreement with the customers for the purpose of purchasing retail natural gas service on an aggregated basis.
Because Retail Suppliers' rates are controlled by market prices, it's important to understand that prices, terms, and contract conditions vary between Retail Suppliers and that these will affect your natural gas bill. Retail Suppliers have to pay for gas, storage and transportation many months before it is needed for consumer use. PUCO regulations require that Retail Suppliers must be well-capitalized and able to meet technical, managerial, and financial requirements to do business in Ohio.
Direct Energy meets all PUCO requirements and has been a licensed Competitive Retail Natural Gas Supplier in Ohio since 1998.