Understanding Pennsylvania Electricity Deregulation
Deregulation was introduced to the energy market in the Keystone State a few years ago, so you now have the power to choose which Pennsylvania electricity company is right for you. Unfortunately, you're not sure what this means, and this makes you rather reticent to disrupt how electricity is brought to your home or business. We do understand your concerns, as big changes like this can be confusing, but we also want to help you understand the key components of Pennsylvania electricity deregulation.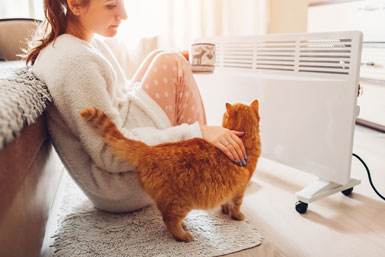 How to Make Your Home More Energy Efficient
The Key(Stone) Facts
The most important thing to understand is that, no matter which electricity supplier you choose for your home or business, you will still be billed and serviced by the same Electric Distribution Company (EDC) that currently bills you, reads your meters, and fixes problems with lines, poles, and outages in your area.
For example, if you've been billed by PECO in the past, you will still get billed by PECO, your meter will still be read by PECO, and PECO will continue to fix any issues with outages or repairs you might have.
The difference with Pennsylvania electricity deregulation is that PECO (or Duquense, Penelec, West Penn, etc) is not the only company from whom you can buy your electricity. In the past, you didn't have choice – you paid the rate per kWh that the EDC for your area told you to pay. Now, you can choose from a wide range of companies that are called Electric Generation Suppliers (also known as an EGS or electricity supplier). Each EGS competes in the deregulated energy market in order to provide a rate per kWh that it hopes you find appealing, which means you can choose the company that you like most.
Billing and Service
As I mentioned earlier, no matter whom you choose as your EGS, the EDC for your area will continue to bill you. When you receive your new bill after choosing an EGS, there will be three basic charges on each bill:
Generation Charge: The generation charge is what the electricity supplier charges you for your electricity usage based on the energy consumed in terms of kilowatt-hours (kWh) and the rate for that energy. This charge is calculated by multiplying the number of kWh consumed during a billing cycle by your rate for energy in terms of cents per kWh.
Transmission Charge: This is the charge assessed by the EDC for your area to cover the costs associated with moving electricity from generating stations to the EDC's electric delivery system. The Federal Energy Regulatory Commissions regulates transmission price and services.
Distribution Charge<: This is the charge assessed by the EDC for your area to cover the costs associated with delivering electricity to your service address.
Most of the charges you see on your bill are generated by the EDC, not the EGS. The only charge that is controlled by your new deregulated electricity supplier is the rate per kWh that you are charged for the electricity you use. The other charges on your bill are assessed by the EDC to bring that electricity to your home or business and for the maintenance of the lines, poles, and meters in your area.
It's Your Choice
In general, you really shouldn't have to worry about the quality of service you receive under Pennsylvania Electricity Deregulation. You have the comfort of knowing that the same reliable company will continue to delivery electricity to your home or business and bill you each month. And you will be able to make your budget happy by choosing an electricity supplier that offers a great low rate per kWh for your electricity usage.