How to Protect Your Home Against Flooding
Protecting Your Home Against Water Damage from Flooding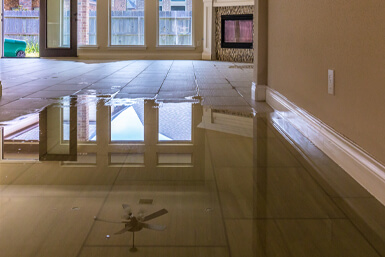 Short but intense rain storms and flash flooding have become a growing concern in many areas. Flash floods happen as a result of too much rain hitting the ground too quickly for the ground to absorb. This is especially true when the ground is still frozen or too dry. Floods can also happen because the ground is too saturated with rain to hold any more water.
Flash floods don't just occur out in the country. Runoff from urban buildings, parking lots, and streets can overwhelm municipal storm water sewers. In some instances, there's so much water in the sewers that the pressure can blow off manhole covers at the bottom of hills. Even worse, it can back up sewage into your basements through household sanitary pipes.Even if your home is sited on a hill, heavy rain storms can also leak water into your basement, possibly damaging your possessions and your home's foundation as well.
Fortunately, you can prevent the water damage that floods can cause your home. Here are several flood control fixes you can make to help manage storm water runoff and prevent flood damage to your home:
1. Slope soil away from your home's foundation.Don't forget to fill and slop soil under decks and porches.
2. Water from your roof, downspouts, and eavestroughs can find its way to your home if they are clogged, leak, or don't carry water far enough from your home. Clean out eavestroughs and downspouts in the fall and spring. You can also use downspout extensions to carry water far enough away from your foundation as an effective flood control.
3. Set up a downspout to empty into a rain barrel. Using rain barrels for rain water storage reduces the cost of watering shrubs, flowers, and vegetables.
4. Plug holes or cracks in your eavestroughs, downspouts, downspout extensions and seal these with silicon caulk. Even a trickling leak can let plenty of water into your basement to become a mold problem.
5. Look for holes or cracks in your foundation and completely fill these with vinyl concrete patching.
6. A sump pump is often the most convenient flood control when geography insists on flooding your basement. Sump pumps work by digging a shallow pit in the basement and a small pump is placed inside. As water collects in the pit during storms, it is pumped through tubing outside the home. Different sump pumps have different capacities, so it's important to use the correct one for the job and that it gets enough power.
7. Fix the sewer back-up threat. If the storm water backing up combined sewers in your area is a constant threat, consider installing a full port backwater valve onto your home's sewer line. This valve opens only one way - away from your home. During back ups, the backwater valve closes to prevent water from entering your home. Of course, during back ups, the back water valve will reduce water flowing out from your home so remember to avoid taking showers, running the washing machine, or using the dishwasher. Backwater valves must be installed by a qualified plumber.