Summer Fun Safety Checklist
Summer is the perfect time for fun in the sun. Between family vacations, stay-cations and outdoor adventures, make sure your family stays safe. Use our summer fun safety checklist to keep everyone happy and healthy this summer.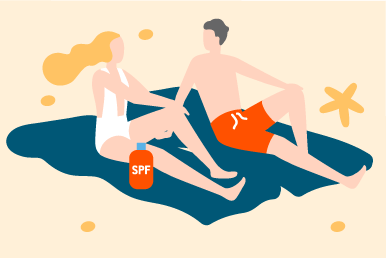 Water Safety
Exercise proper water supervision, even in shallow water
Enroll your family in formal swimming lessons
Get certified in CPR
Get properly-fitting U.S. Coast Guard-approved life jackets
Don't bring electronics near water
Don't run around the pool
Use plastic drinking cups
Swim with a buddy and near a lifeguard
Beach Safety
Swim at least 100 feet away from piers and jetties
Swim parallel to the shore if caught in a rip current
Teach kids about potentially harmful marine life
Avoid swimming at twilight, when the water is murky or near fishermen
Look out for flags and signs indicating danger
Watch out for dangerous objects like glass or marine life on the beach
Insect Safety
Remove standing water to keep mosquitos away
Apply insect repellent
Implement repellent treatment in your yard like spray or citronella
Keep nighttime outdoor recreation to a minimum
Sun and Heat Safety
Dress in lightweight clothing
Never leave anyone - pets or people - in the car
Avoid being outdoors when the sun is at its peak
Stay hydrated
Wear hats and sunglasses
Watch for signs of heat exhaustion, heat stroke or dehydration
Sunscreen guide
Choose sunscreen wisely

water-resistant
broad-spectrum sunscreen
SPF 30 or greater

Application

Cover all exposed areas thoroughly
Use at least one ounce of sunscreen1
Apply 30 minutes before going outside
Reapply every two hours, more often if sweating or swimming
Play safety
Wear protective gear when playing sports or riding bikes
Make sure play areas are well-maintained
Check the area broken glass or other dangerous objects
Travel Safety
Maintain proper air pressure in your tires
Check your car's fluid levels and air filters
Have your car battery checked
Crowd Safety
Take a picture of your child wearing today's outfit in case you get separated
Teach your kids where to go if they get lost
Dress everyone in easily-recognizable outfits
Firework Safety
Don't let young children handle fireworks
Have a bucket of water ready to put out fireworks
Wear safety goggles
Do not consume alcohol when shooting fireworks
Shoot fireworks in a clear area away from buildings and crowds
Purchase fireworks from a reliable source and do not attempt to DIY
Do not attempt to relight a firework that does not light
Follow all state and local laws and ordinances. In some areas, they are illegal.