Benefits of a Tankless Water Heater
Tankless water heaters use the latest in gas technology to provide an endless supply of hot water. Heating water only when it's needed provides energy savings not found with conventional water heaters (storage tanks).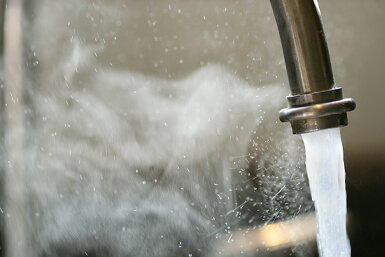 Tankless Water Heater Pros and Cons
Here are the key tankless water heater benefits:
Energy Savings: Save by heating water only when you need it. You can reduce your hot water heating costs by approximately 30%. Please note: approximately 20% of your total heating costs are from you water heater.
Convenience: Run the dishwasher, washing machine and take a shower at the same time! Provides over 4 gallons per minute with no recovery time.
Comfort: Tankless water heaters provide a continuous supply of hot water throughout your home. You're not limited by a fixed pre-heated supply as with a conventional tank, and you'll never wait for the shower to warm up again.
Safety: Digital temperature control at the touch of a button can be set to exact user-specified temperatures using a digital controller.
Flexibility: A tankless water heater can be placed in virtually any room. Traditional storage tanks can take up to 16 sq. ft. of floor space.
Longevity: Tankless water heaters typically last for about 20 years, compared to 10 to 15 years for conventional water heaters.
As with most things, there are tankless water heater pros and cons. The drawbacks to a tankless water heater can include:
Price: Tankless water heaters are more expensive than conventional water heaters, and while they're lower maintenance than conventional models, their repairs may be more expensive.
Installation costs: Professional installation is recommended, and in some homes, may require some retrofitting. This tends to make installation more expensive than that of conventional water heaters, as well.
Addressing needs: Tankless water heaters come in various capacities and must be sized carefully to the hot water needs of the home. If you underestimate your needs, you might find yourself running out of hot water more often than you did with a conventional water heater.