Tips for Remodeling Your Home with a Green Emphasis
For homeowners, remodeling offers an opportunity to recreate the look and feel of a home to arrive at something new – or the home of their dreams. It is also a wonderful time make your home greener and more sustainable by ditching the energy inefficient areas and replacing them with greener alternatives. To make green improvements during any remodeling project, these six ideas can help set the stage for an improved and environmentally friendly home.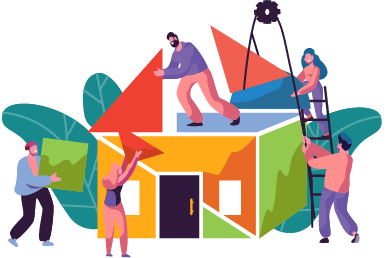 1) Invest in a Home Energy Audit
The more homeowners understand about their home's current energy inefficiencies, the easier it will be to see opportunities for improvement in the home's efficiency and sustainability. Hiring a professional to conduct a home energy audit provides homeowners with a baseline of their current situation. Because of this, scheduling the audit should be one of the first steps of any home remodeling project. These suggestions can be used to form the foundation of any remodeling effort.
2) Replace All Energy-Inefficient Appliances
Homeowners looking to make an immediate impact should replace older appliances with ENERGY STAR® models as soon as possible. Laundry rooms can be outfitted with energy-efficient washers and dryers, and HVAC systems can be updated to improve efficiency and curb waste. Even a simple light bulb change to LED's can reduce energy usage and save homeowners a couple of dollars a year per bulb. To better understand all of the potential energy savings and replacement options, visit EnergyStar.gov.
3) Rid the Home of Wasteful Water Use
As the number of people living in a home increases, so too does the potential for water waste. This can be curbed by incorporating smart design elements into the remodeling process. If the project includes significant alterations to the kitchen or bathroom, incorporate low-flow faucets and shower heads into the plan. These easy replacements will have an immediate impact on the home's water usage and family members will get used to them in no time.
4) Reclaim the Floor
Hardwood floors are very popular in modern homes, and green remodeling projects don't have to forgo this trend just to save trees. Reclaimed wood flooring options are made from recycled wood materials and deliver the same look and feel without creating additional tree loss. Prices for this wood range from $5–$15 per square foot, and for a truly green alternative, homeowners should look for reclaimed wood options featuring formaldehyde-free adhesive backing.
5) Be Smart About the Sun
Incorporating the sun into a home remodel is an easy, effective way to stay green and conserve energy. Homeowners can capitalize on natural light via large windows and skylights. They can also solve some of their energy needs by installing solar panels on the home's roof. Finally, homeowners may be able to supply heat to their home through passive solar building design options. This process uses concrete floors and walls to capture the sun's heat during the day and release that heat into the home once the sun has set.
6) Be Smart About the Trash
Focusing on making new improvements to a home is easy during a remodeling project, but homeowners can't afford to ignore what they throw away as well. Some items must be disposed of through a conventional trash-collection service, but other options remain.
Before throwing an item away, first see if it can be donated to an area charity, second-use store, or shelter.
Find out if friends and/or family are interested in the item.
Talk with your local trash collector and recycling center to see what they will take from a home remodeling project.
Basically, the more trash you can keep out of landfills and recycled into other products, the better – and this goes a long way to making your home remodeling project as green as possible.