How to Upgrade Your Home Electrical Outlets
Improve Safety and Convenience with Ease
Most home electrical work falls outside the abilities of the average DIY homeowner. But even if you've never so much as opened your circuit box, there's one component of your electrical system you probably interact with every day: your wall electrical outlets.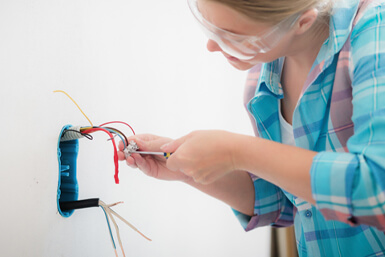 They're small, simple, and easy to take for granted. But like any other part of your home infrastructure, they get old and succumb to wear and tear. It's important to understand when they're ready for replacement -- as well as what new functions you might find in the most modern electrical outlets.
Safety First
The most important reason you might consider replacing your outlets is to reduce safety risks -- specifically, the risk of a house fire. It's imperative that you deal with outlets that are worn or failing at the first signs of trouble, since they could potentially shed sparks that could set your home ablaze.
One of the most reliable methods for identifying this risk is to schedule a thorough electrical inspection of your home with a trusted and licensed local electrician. Since replacing outlets is a relatively small job, an electrician can often do this work during the same service call as the inspection.
There are signs you can look for yourself – without the need to call in a professional. If you see visible sparks when plugging in or unplugging electronics, or if appliances frequently trip the circuit breaker, a failing outlet could be the culprit. If you find outlets that are loose or wobble in the wall, you should tighten them up at a minimum, but consider replacing them – especially if you know they're old.
Enjoy Added Convenience
Even if some or all of your outlets are safe, you might want to replace them with more modern versions that offer additional features. An increasingly common outlet feature is the ground fault circuit interrupter, or GFCI. When you see an outlet with two buttons marked "reset" and "test", that's how you know it has a GFCI. Outlets equipped with a GFCI have two buttons marked "reset" and "test". These devices monitor electrical currents and cut the flow of electricity almost instantly when there's a fluctuation in the level of current. This safety feature dramatically reduces the electrocution risk for anyone using the outlet.
If you have young children in your home, you may already be using removable outlet plugs for their safety. But many outlet styles have this feature built-in, making it more convenient to toggle between covering an outlet and putting it into use.
In the areas where you commonly use and charge your digital gadgets, you can also look into combo outlets with built-in USB chargers. Though you'll still need a charging cable, these handy outlets eliminate the need for USB charging adapters and allow you to power up your phones, tablets, and other items without occupying the traditional electrical outlet.
Whether it's for safety or convenience, you can learn more about your options and get started toward an outlet upgrade by contacting an electrician near you.