What Does a "Red Tag" on a Gas Appliance Mean?
Natural gas is a cheap, efficient fuel source for heat-producing appliances like furnaces, water heaters, dryers, fireplaces and stoves. But in the event of a malfunctioning appliance, natural gas can be quite dangerous. Gas companies periodically conduct inspections of residential gas systems, and when they find a problem with a gas appliance, they may deactivate and "red tag" it.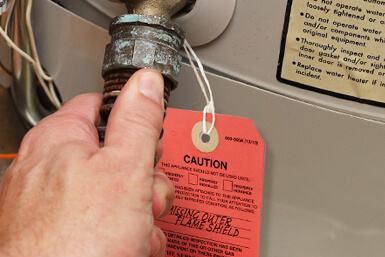 What is a "Red Tag"?
Not all gas utilities use a literal red tag to mark faulty appliances, but enough of them do that "red tag" has become a shorthand term for the act of a gas company disconnecting gas service to an appliance or property. Red tags can also be applied to parts of a home's natural gas infrastructure, such as pipes, tubing, tanks and valves, or to entire homes.
A red tag indicates that there is a safety concern with the appliance or part to which it is attached. The tags are put in place by a gas company technician, who will usually write a description of the problem on the tag and describe the necessary repairs. The technician will also disconnect gas service to the problem area, either by capping off the nearest valve or shutting off gas service to the entire property.
In most cases, the property owner is responsible for making the necessary repairs and contacting the gas company for a follow-up inspection. Once the gas company confirms that the issue has been corrected, their technicians should remove the tag and restore service.
Since different gas companies have different processes for safety inspections, it's a good idea to check your utility's website or call them directly for more information if you own a residence with an appliance red tagged by gas company technicians.
What Kind of Problems Lead to a Red Tag?
All "red tag" issues are ultimately safety issues because they can cause natural gas exposure. Exposure to leaking gas fumes can cause dizziness, nausea, headaches, breathing problems, loss of consciousness and even death in high concentrations. Natural gas is also highly combustible, creating the risk of fire or explosions whenever gas is leaking.
Some of the most common gas system problems that qualify for a red tag include:
Observable gas leaks of any kind, from pipes, valves or gas appliances
Gas supply connections that aren't up to code
Rust damage to natural gas tanks or burners
Water leaks that endanger gas appliances
Blocked or malfunctioning gas vents or flues
Malfunctioning gas meter
Damage to unoccupied homes by copper thieves
Cracked furnace heat exchanger
Unauthorized installation of flexible gas lines
What Happens When an Appliance Gets a Red Tag?
Only your local gas utility or supplier can affix a red tag and shut off gas service, and this takes place during an official inspection. The requirements for when you must obtain a gas inspection vary based on local laws and the policies of individual gas utilities, so you may want to check your utility's website for details. Many gas utilities require safety inspections of residential properties every few years.
There are also certain events that can trigger a mandatory safety inspection, such as selling a home, applying for an occupancy permit, restoring disconnected service or performing home improvements that affect gas lines and appliances.
If you ever have questions about a red tag on an appliance or gas system in a property you own, you should direct them to the utility that placed the tag. Be prepared to provide your name, address, account number and the information written on the tag.
Finally, you should never attempt to reconnect any appliance that has been red tagged. While it may be an inconvenience and expense to arrange repairs, faulty gas appliances can create deadly conditions in minutes. Stay safe by taking the notice seriously.