19 Packing and Moving Hacks for an Easier Move
Moving can be a huge hassle. Uprooting all your belongings and packing them into cumbersome boxes, then getting it all out and into a new place never sounds like fun. Fortunately, a few tricks can help you save effort, time and money on your move. Whether you're moving cross country or staying local, read our packing and moving hacks to make moving easier: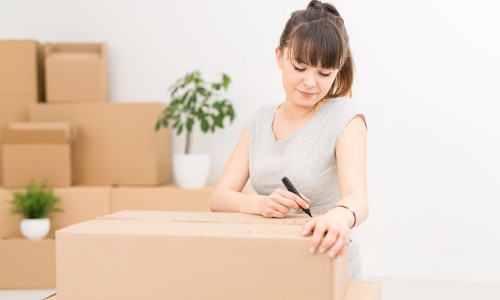 1. Clean out your home
A move is a perfect time to clean out your closets and get rid of anything you no longer need. As you're packing your possessions, gather all the items on which dust has settled and decide if you still need them. If not, recycle, donate or have a garage sale to reduce the hassle and cost of moving more stuff. A good rule of thumb is if you can replace an unused item down the road for $20 in 20 minutes, you can part with it.
2. Make a packing schedule
Plan to pack a little bit every day so you're not overwhelmed at the last minute. Start with out-of-season clothing and work your way toward more frequently-used items like kitchen supplies and dishes.
3. Meal Prep
Amid the moving and unpacking, it's an easy choice to get takeout until your new kitchen is stocked. Instead of spending money on expensive and unhealthy meals, prepare a few easy meals that you can keep refrigerated or frozen for a few days before and after your move.
4. Keep track of moving expenses
Keep all your receipts and other records from your moving expenses. You might be able to deduct these expenses from your taxes.
5. Create a box for all moving supplies
When your home is in disarray and nothing is where it once was, it can be easy to misplace the packing tape or labels. Create a box or basket that will contain all moving supplies, preferably in a bright color or noticeable pattern to make it easy to spot. Make it a rule that whenever someone is done using a supply, it goes back in the box.
6. Pack an essentials bag
Pack a bag with a few days' worth of clothing, toiletries and other essentials to use before you settle in. This will make it much easier to end an exhausting moving day with a nice shower in your new place, and avoid rummaging through boxes while getting ready in the morning.
Make sure to pack a special bag for other daily use items like toilet paper, hand soap, bath and hand towels, paper towels and bedding.
7. Use your own bags and bins first
Before buying moving boxes, use your own extra suitcases and storage bins to pack up. This will save you money when you are ready to find moving boxes.
8. Look for cheap or free packing supplies
Before you head to the packing supply store, visit local sites like Craigslist as well as stores, restaurants and your office for free moving boxes and other supplies. Check out our tips for finding free and cheap moving supplies.
9. Avoid packing heavy items in large boxes
When buying boxes, you'll probably want to buy mostly small and medium boxes. These are much less cumbersome to carry and more manageable with heavier items inside. Pack the densest, heaviest items like books in small boxes, modestly heavy items in medium, and stick to pillows and mostly lighter items for large boxes.
10. Seal and protect your makeup compacts
Place cotton balls or cotton rounds under the lids of your makeup compacts to prevent them from cracking. Tape the lids to makeup containers that could easily pop open.
11. Put plastic wrap under the lids of liquid bottles
Block any liquids from leaking with a piece of plastic wrap between the tops of bottles and their lids. For more protection, seal liquids inside a plastic bag.
12. Use clothing, linens and blankets for breakables
Save on bubble wrap and use your own clothing, towels and blankets for breakable and sensitive items. Use t-shirts and towels for plates, bowls and vases, and socks for drinking glasses. Place large blankets over your dining table and other wood furniture and secure them with rubber bands to prevent the furniture from getting scratched.
13. Put spice containers inside large pots
Make the most of empty space in large pots by putting spices inside them.
14. Put large knives inside oven mitts
Keep yourself and your family safe from sharp knives and other kitchen tools by placing these tools inside oven mitts and securing them with rubber bands.
15. Pack your hanging clothes in trash bags
If you're looking to save money and time, this method is the best way to pack clothes for moving. Instead of taking the time to fold your hanging clothes into boxes and bags, keep your clothes on their hangers and wrap them in trash bags. This makes it easy to transport your clothes and quickly hang them in your new closet. It also saves space and the expenses that come with more boxes.
If you can, get trash bags with handles. These stay in place better while being transported, can fit more garments, and can be reused as trash bags afterwards.
How to pack hanging clothes with trash bags:
Gather a group of garments, starting with about 10 to 15 pieces for a standard trash bag.
Start from the bottom of your garments and move upward with the top of your bag.
When your clothes are completely inside the bag, wrap the handles around a few or all of the hanger hooks to keep the bag in place.
For a bag with no handles or longer garments, make a hole in the bottom of the bag and hang the bag over the clothes like a garment bag. You may need to pack these garments in smaller groups.
16. Label boxes based on priority and contents
You'll want to unpack your regularly-used items like kitchen supplies and clothing first, so make sure to label or color code your boxes based on when you want to unpack them. When you move, you will know which boxes need to be in the most accessible place to unpack, and which boxes can remain in the back of the pile for a few days.
Make sure you also write down the contents of each box so you can find things that you have not yet unpacked.
17. Label boxes on the side
It's hard to see a label on the lid of a box that is under a stack of other boxes. Put labels on the sides so that you'll know the contents without extra manual labor.
18. Cut handles into boxes
Use a box cutter to cut triangular handles into the sides of your moving boxes for easier lifting and carrying.
19. Set up the beds first in your new home
Before piling all the boxes inside your new home, take some time to set up everyone's beds. Doing at least the bare minimum of the frames and mattresses will help you block off sleeping spaces when moving everything in, and you'll be able to crash right away instead of setting up when you're exhausted.
By incorporating these moving and packing hacks into your moving plan, beginning life in your new home will be much less stressful and you'll be able to better enjoy the journey.