Major Cities in Texas
Thinking about moving to the Lone Star State? There's plenty of room -- at nearly 270,000 square miles, Texas is the largest state in the contiguous United States and the second largest in the nation, behind Alaska. But its huge size also means the choices of where to live can be a little overwhelming, especially if you don't have a particular region or metro area in mind.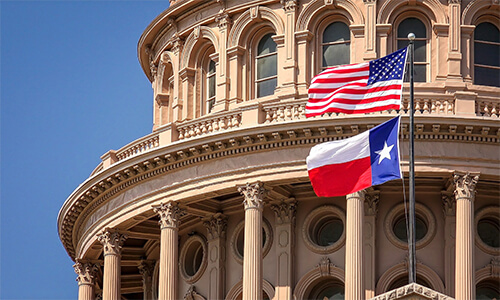 Some cities, suburbs and neighborhoods stand out across Texas' great expanse. If you're still trying to get the lay of the land and find the neighborhoods that are best suited for you, this guide should be helpful in your search.
Houston
There is plenty of room for the moving truck on Houston's streets. The city is Texas' largest, and it's the fourth largest in the country. You'll find the biggest medical complex in the world, the Texas Medical Center, right in the middle of this gigantic metropolis.
Other major industries in Houston are oil and petroleum, and as the home of NASA, it's also our terrestrial hub for aeronautics and space exploration.
It's not all work and no play. Houston also offers great food, great culture, and lots of sports. You can cheer on the Houston Astros, Texans, Dynamo, and Rockets -- and those are just the professional teams. Or, for something different, check out the Houston Livestock Show and Rodeo.
Major suburbs around Houston include:
The Woodlands: With more than 100 parks and 200 miles of trails for hiking and cycling, The Woodlands is big on green space. It's also dotted with shopping and dining districts for when you're in the mood for boutique shopping or an al fresco bite. Located about 30 miles north of downtown, The Woodlands is home to dozens of corporate headquarters, offering great opportunities to both live and work.
Sugar Land: This city stretches southwest of Houston and is the city's largest suburb. It's also home to a high concentration of large employers, and with its reputable schools and convenient retail landscape, Sugar Land gives families what they need to thrive.
Katy: West of Houston is the suburb of Katy, which offers a great mix of affordability and accommodations. It has sprawling shopping and dining hubs, numerous golf courses and even a water park. Katy straddles Interstate 10, so getting downtown is just as easy as heading west to explore the more far-flung parts of Texas.
Dallas
Now let's head north to Dallas. This city is certainly worth some cross-country moving. It is a major force in the oil and cotton industries, as well as in information technology. Also, many production companies from Hollywood prefer to shoot Texas-centric material in the greater Dallas area. With the major city of Fort Worth just a short distance west, the sprawling metroplex constitutes the fourth largest metropolitan area in the nation.
If you are a sports fan, you will enjoy watching the Texas Rangers as well as the Dallas Mavericks, Stars, and Cowboys. Like other areas of Texas, Dallas is mix of Southern hospitality and Western flair.
Major suburbs around Dallas include:
Plano: Throughout the 70s and 80s, Plano was one of Dallas' most desired suburbs, and it grew to be among the most expensive. But as newer suburbs sprung up father north, Plano became more affordable, and today the city is thriving as younger and more diverse residents flow in. Plano's public school system is renowned and its proximity to Downtown Dallas puts it just a short light rail trip away.
Garland: The Northeastern Dallas suburb of Garland is always popping up on various top ten lists of Dallas-area cities, from the best places for first-time homebuyers to the best places to build a career. It's known for its affordable housing prices, good schools, quick commute to downtown and nearby leisure spaces around Lake Ray Hubbard.
Frisco: As one of Dallas' newer suburbs, Frisco is on the northern outskirts and a slightly longer drive from downtown. But its mix of affluent subdivisions and more affordable neighborhoods means that there's a home for just about everyone. Local destinations like the Stonebriar Shopping Centre and Lewisville Lake bring in visitors from around the metro area.
Austin
Located near the center of the state is Texas' capital city. Known as the "Live Music Capital of the World," it is home to the University of Texas as well as many other colleges and universities.
Austin has a fabulous arts and culture scene, and the terrain is quite hilly, unlike the rest of state. The top industries for employment opportunities can be found in the fields of technology, filmmaking, government, health-care and education.
Major suburbs around Austin include:
Round Rock: This suburb wasn't always the place to be, but as demand for housing in the Austin metropolitan area has exploded, Round Rock has picked up the slack. It's one of the area's fastest growing cities and has a good balance of high-end homes and more modest dwellings. The schools in Round Rock are excellent and the population boom has led to the development of annual festivals, arts events and a hip, thriving downtown.
Cedar Park: This large suburb is close to Austin's southeast side and is also growing fast. Despite the increasing population and demand for housing, Cedar Park has retained much of its small town charm and close-knit vibe.  
Pflugerville: For something a little more quiet and close to nature, Pflugerville offers the ideal mix of suburbia and countryside. You can splash down at the local waterpark or get lost on the beaches and lakes of the huge Lake Pflugerville Park. A small but vibrant downtown area offers other forms of entertainment at night. The city's unusual name comes from the German immigrants who settled the land, and its annual "Deutschen Pfest" continues to this day.
San Antonio
Just south of Austin is San Antonio, the city that brings to mind the famous phrase, "Remember the Alamo!" In the downtown area, you will find the River Walk, which has many shops and restaurants and serves as an entertainment hub for the city
Though many companies are headquartered in San Antonio, the city is well known for its edge in the biomedical field. And local sports fans can cheer on the San Antonio Spurs from right at home.
Major suburbs in San Antonio include:
Shavano Park: As one of San Antonio's far north suburbs, Shavano Park has plenty of room to grow, which means new homes are still springing up. If you're looking to build something from scratch, it can be a great place to search for undeveloped lots. Shavano Park also offers hiking trails and nearby wine vineyards for enjoying fair weather days.
Hollywood Park: Bustling Hollywood Park is home to a diverse mix of families and working professionals, with homes available at several different price points. Known for its hip and quirky bars and restaurants, fun public festivals and friendly neighbors, there's always something to do in this spot about 14 miles north of Downtown San Antonio.
Terrell Hills: While the real estate prices in Terrell Hills may be on the high side, residents get a lot for their money -- spacious yards, excellent schools and plenty of peace and quiet. This spot is very close to San Antonio's northeast side, so getting downtown in a hurry is never a problem.
Best Cities in Texas
Whether you're looking for a good place to raise a family or a home that's full of activities to match your lifestyle, you can find the best city for you in Texas.
Families
Livability.com puts Harker Heights at the top of its list for family-friendly towns. Just outside of Fort Hood, Harker Heights is packed with family friendly entertainment options, parks and recreational facilities. It also has a large population of school-aged children, so your kids will never be lonely. Other cities that made the list include Pearland, Little Elm and the above-mentioned suburbs of Round Rock and Frisco.
Singles
Ready to mingle? Wallet Hub has pegged Austin as Texas' best city for singles and the 17th best spot for singles in the nation. With its huge live music scene and nightlife district, you won't have any trouble meeting other fun-loving singles here. Farther down the list, Houston ranked 26th, San Antonio 36th and Dallas 46th.
Pets
If you'll be making the move to Texas with your four-legged friend, you should find plenty of places to live in Arlington, which topped Apartment List's 2015 survey of American cities with the most pet-friendly rentals. There were several other Texas cities in the top 20, including Irving in 4th place, Garland in 11th, Harker Heights in 12th, Katy in 13th and Lubbock in 19th.
Outdoors Enthusiasts
Is home just where you sleep when you're not camping? Then you might want to consider dropping anchor in Galveston, which ranked first in 55places' list of the best places to live in Texas for nature lovers. From beaches to forests, Galveston has it all, and without taking you far from civilization -- Houston is less than an hour's drive away. Other outdoorsy spots on the list include Brownsville, Amarillo and Grapevine.