Moving to Texas Guide: 8 Things to Expect When Relocating to The Lone Star State
It's no wonder people are flocking to the Lone Star State. Not only is Texas the second most populated state in the U.S., it is also physically one of the largest and fastest-growing states in the country. From the scrumptious beef brisket to the booming economy, there is a lot to love about Texas. Thankfully, there's a Texas city to fit every person's unique budget and lifestyle.
While finding your new home in Texas will be exciting, it will pose some new challenges. We've put together a quick and comprehensive moving-to-Texas guide to help you get a head start!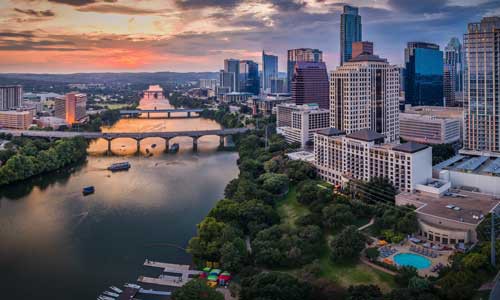 1. Be Prepared for Warmer Weather
Texas is big, and conditions can vary widely, depending on where you live within the state. From humid to dry, from moderate to extreme, Texas weather is an experience.
Summers are generally hot and temperatures average in the mid to upper 90s, while winters average around the mid-60s with rare drops if there is an occasional cold front that comes through the state. Texas averages more tornadoes per year than any other state, and the Gulf Coast has been hit by several major hurricanes including Carla (1961), Celia (1970), Ike (2008), and Harvey (2017).
We've all seen memes and made jokes about it, but the truth is the weather in Texas is highly unpredictable. Did you know Alvin, Texas, holds the infamous record for the most rain ever to fall in the U.S. in a 24-hour period? It took place during Tropical Storm Claudette in 1979, in which 43 inches of rainfall occurred. Read more fun Texas facts here.
If you don't love warm weather, it might be best to reconsider your move. On the other hand, if you are someone who thrives on it, moving to Texas is the best decision you have made!
2. Lower Taxes
Texas is one of only seven states where residents pay no state income tax. The state sales tax isn't very high either. There are also several tax incentives for businesses. According to Forbes, "Texas encourages business ownership through lower taxes and less burdensome regulations."
Visit https://businessintexas.com/ to learn more about the competitive tax climate Texas offers and its advantages.
3. Real Estate is Affordable
Texans are big on home ownership. According to zillow.com, the median home value for homes for sale in Texas is about $184,700. While Texas home values have gone up 6.7 percent over the past year and a rise is expected over the next 12 months, it's still far less than the national average.
If you are planning on moving to Texas, livability.com rates these as the 5 best cities for raising families in Texas:
Harker Heights
This small town offers families several great options for spending quality family time including lakes, community parks, trails and a host of other activities to engage in including bowling, skating, boating and camping.
Population: 28,199
Median Home Price: $64,494
Pearland
Popular as one of the safest neighborhoods to live in, the crime rate in this suburb of Houston is significantly lower than the national average. The Pearland Town Center offers several dining and shopping options. The city's proximity to major job hubs is also a big plus for residents.
Population: 101,725
Median Home Price: $185,400
Little Elm
This fast-growing suburb of Dallas is popular with active families. Five local community parks including McCord Park and Little Elm Park host a variety of city events and festivals.
Population: 32,581
Median Home Price: $167,200
Round Rock
Close to the state capital, Austin, Round Rock offers its residents the best of both small-town charm and the conveniences of a big city. It is known as the "Sports Capital of Texas," because of its central location and premier destination for amateur, youth and recreational sports in the state. The city is home to the AAA Pacific League minor league baseball team, Round Rock Express and several other great sports facilities. Significant employers including Dell, IBM and IKEA have offices here.
Population: 109,690
Median Home Price: $179,900
Frisco
Residents of this city send their kids to schools ranking in the top 10 percent in the state by GreatSchools.org. The city is also home to the Frisco Heritage Museum.
Population: 137,797
Median Home Price: $277,600
While the cost of living varies from city to city, most Texas cities are well below the national average. It's always best to do your own research before the big move and
make the best choice for your family. GreatSchools is a useful resource for information about schools in your chosen city, including ratings and reviews.
4. You'll Save on Electricity Bills
Texas has a deregulated electricity market, meaning consumers can choose their energy supplier. This allows you to select the company that best fits the needs of your home and family. You're also free to change providers. If you're coming from a regulated market, that might sound risky. Don't worry – you'll never experience service interruptions when you switch. Typically, once you have chosen your new plan, it takes about seven business days for the change to go into effect, and you will get your first bill from your selected provider during their next billing cycle without any interruptions to your service.
The Public Utility Commission of Texas has created some excellent resources for shopping rates and providers. Visit Power to Choose or Power to Save to help get you started and see the options available to you.
5. A Booming Job Market
The unconventional oil and gas boom over the past few years has turned Texas into an economic juggernaut. According to Forbes.com, even though the population has increased by 12.6 percent since the 2010 census, the robust job market has been able to sustain the growth.
The Lone Star State is strong in the petroleum, wind energy, healthcare, education and technology sectors. Some of its major employers include Shell, Texas A&M University, MD Anderson Cancer Center, Dell, ExxonMobil, and Lockheed Martin Aeronautics Company.
6. Foodie's Paradise
The great state of Texas is a melting pot of culinary comforts. Chiles everywhere, buffets of Tex-Mex cuisine, barbeque and happy-hours are just a few of the multitude of gastronomic experiences this state offers. There are plenty of options to satisfy your wandering palate, and resisting the temptations of fresh guacamole and mouthwatering fajitas is a hard job, trust me!
A common point of interest among most Texans is their love for food and travel. While there is a lot to absorb food-wise in the great state of Texas, this road trip, culinarily speaking, will help guide you through some of the most buzzed-about food destinations you've probably read about and not yet visited.
7. Heavy Traffic is a Part of Texas Life
The first thing you'll notice about the Lone Star State is that things are spread out geographically. Unfortunately, one of the very real challenges you will have to face is the lack of comprehensive public transit. Every city-dwelling Texan will tell you they have had to deal with the frustration of long hours spent sitting in traffic.
Unless you are living within a 3-4-mile radius of your workplace, you will spend a lot of time commuting. Traffic is awful as the roads in most areas have not kept pace with the ever-growing population, so be prepared for the inevitable.
8. Everything Is Bigger Here
If you're one of those folks who like things small, then Texas is not the state for you. The geography isn't the only oversized item - literally everything is bigger! Food portions are huge, the shopping malls are enormous, houses are big, roads are large... The list goes on. The saying "everything is bigger in Texas" likely originated as a reference to the enormity of the state's geographical area. In terms of square miles, Texas is only second to Alaska in size, and it is the largest of the contiguous 48 states.
Moving Advice - Quick Tips
Choosing your moving company: When researching moving companies, check to be sure the company you choose has a TxDMV license before hiring them. Find more tips on how to find a moving company here.
Changing Your Address: Ideally, you'll want to update your address information online with USPS a week before your move. Then you can be assured your mail is moving along with you, and you'll receive coupons in the mail to help you save in your new neighborhood.
Driver's Licenses, Vehicle Registrations, Voter's Registrations etc.: You'll find all the information you'll need on the official website for the State of Texas.
Driver's Licenses: Law dictates that you must secure a Texas driver's license within 90 days of moving to the state. Find more information here.
Voter Registration: The Texas Secretary of State's gov site will give you all the details on how you can register to vote in Texas and the polling location for your new address.
Vehicle Registration: Visit the Texas Department of Motor Vehicles for more information on how to get your vehicle registered in Texas.
Check out our Moving Hub for a wealth of resources to aid in your preparations for your big move. We have checklists to help you get organized, packing tips, moving hacks and more:
Infographic: Packing Tips By Room
What to Sell When You Move - And How to Sell It