How Should I Set My Air Conditioning Fan: Auto or On?
Whether you like to keep it extra chilly or adjust the thermostat to save on your utility bills, there's another important choice besides your desired temperature. Your HVAC fan setting can have big implications for your indoor air quality, comfort and energy efficiency.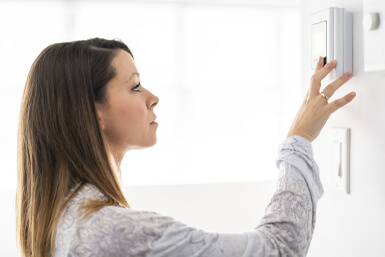 Your air conditioner's fan operates independently from the cooling unit, circulating air throughout your home. Most systems offer two fan settings: On and Auto. When the fan is set to On, it blows continuously, circulating and filtering air regardless of whether the air conditioner is in cooling mode. When the fan is set to Auto, it only blows when the air conditioner is actively cooling.
Fully Automatic
The primary benefit to using the Auto setting is to cut back on energy consumption, and in turn reduce your utility bills. In giving the fan a break between cooling cycles, you're also reducing wear and tear, allowing you to go longer periods between preventative maintenance.
The downside of this setting is that your indoor air could grow noticeably stagnant when the fan isn't running, allowing dust, pet dander, pollen and other irritants to become more concentrated in the air you breathe. This is usually the biggest issue on cooler days, when your air conditioner may be between cooling cycles for extended periods.
Turning it On
The pro-con balance is flipped when you switch to the On setting. With the fan blowing continuously, your indoor air is always being filtered and replaced. While this treated air is more pleasant for everyone to breathe, it's especially important to people with sensitive allergies or respiratory conditions.
On the other hand, you'll likely see a difference in your utility bills, and you'll want to be a little more proactive about routine maintenance to your HVAC system. You'll also need to be diligent about replacing the air filter, which will clog up faster than it would under the Auto setting. Another possible drawback: running the fan when the air conditioner isn't cooling can bring humid air inside.
It's Up to You
Whichever mode you prefer, the tradeoffs are clear. If you'd like more than just these two options, contact a reliable HVAC technician to inquire about equipment like variable speed blowers, which can create a middle ground for energy efficiency, or a smart thermostat, which may offer additional fan settings.
Stay Current with Direct Energy
When you sign up with an energy plan from Direct Energy, you'll get tips and tools to stay informed about your energy usage and save on your bill.