Understanding Your Energy Bill
If you live in an area with deregulated electricity or natural gas, you have the freedom to choose your own supplier to get the right rate and plan for your home. When you're shopping for a plan, it's usually pretty easy to compare rates, but what about total monthly cost? Read on to learn about what costs to look out for on your energy bill.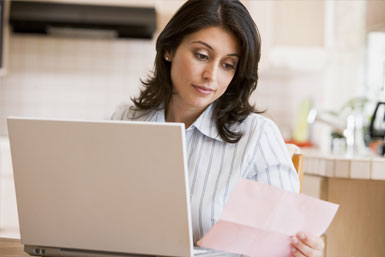 Estimating your monthly cost for electricity or natural gas will help you decide on the right plan and better budget for your utility bills. To estimate your monthly energy costs, you'll need your rate, usage, and charges.
Rate
Your rate is the amount you pay per unit of electricity or gas you use. Your electricity rate will be measured in kilowatt-hours (kWh) and your gas rate could be measured in CCF, MCF or Therms, depending on where you live. You'll usually see two types of rates: fixed and variable.
Fixed-Rate Plans
With a fixed-rate plan, you'll be able to lock in a rate for the number of billing cycles specified on the plan. Fixed rates protect you from market price fluctuations and make it easy to estimate your monthly supply charges.
Variable-Rate Plan
With a variable-rate plan, you'll pay the current market rate, which means your rate could change from month to month or throughout the month. For this reason, it's more difficult to estimate your monthly supply charges with a variable-rate plan.
Where to Find Rate Details
Your state's public utilities commission, or governing body of electric or gas service, requires suppliers in your state to provide the rate and other vital plan information in plan documents. If you live in Texas, this document is called an Electricity Facts Label. If you live outside of Texas, you can find the rate in the Rate Plan Summary, or Contract Summary.
Usage
You can determine your usage by looking at your past bills. If you're moving to a new area or to a home of a different size, you can try asking your neighbors, your landlord or previous residents to get an idea of past electricity or gas usage in your new home.
Charges
In deregulated areas, electricity and natural gas bills have two main components: supply charges and utility or delivery charges. You can calculate your electricity or natural gas bill by adding your supply charges and utility charges.
Supply Charges
Supply charges, or energy charges, are the charges from your chosen energy or natural gas supplier. Depending on your state and your choice of supplier, this charge could come from a competitive provider or your local utility. These charges represent the cost of the electricity or natural gas you used in the last billing cycle
To calculate your supply charges, you'll multiply your rate by your usage.
For example, if you're on a fixed-rate electricity plan that charges 7 cents per kWh and you use 1,000 kWh in a month, you would calculate your supply charges like this:
$0.07 per kWh X 1,000 kWh =$70
Utility Charges
Your local utility is the company responsible for maintaining the poles, wires and lines that deliver electricity and natural gas to your home and fixing outages, leaks and other issues related to this equipment. Utility charges, also called delivery charges, are set by the utility in your area and help cover the cost of delivering electricity or gas to your home.
To get an idea of your utility charges, you can look at your past bills. If you're staying in your current home or in the area, your past bill will probably contain charges from the same utility company that will serve you with your new plan or supplier. If you're moving into a new area, your past bills may still be able to inform you of the general cost of utility charges, or you could try asking your neighbors.
Keep in mind that even if you are staying within your current utility's service area, the utility charges could still change based on the costs of producing and maintaining the equipment used to deliver electricity and gas to your home.