How to Shop for Electricity in Texas
As a Texas resident, you have the option of either staying with your current electricity provider or switching to a new one each time your contract is up for renewal. There are numerous factors to consider when looking for a new provider – you want a good rate, but also need to consider the type of plan, including whether or not you want renewable energy, free energy hours or other benefits. And let's not forget the possible promotions and rewards programs!
Read on for more information on how to shop for electricity in Texas and a primer on some of the key players in the industry.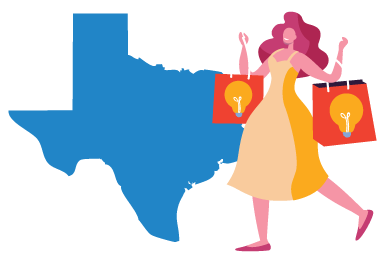 What Type of Electric Plan is Right for You?
When shopping for an electricity provider, you must first decide if you want a variable- or fixed-rate plan, each of which comes with its own pros and cons:
Fixed-Rate Plans
With a fixed-rate plan, the rate you pay for electricity will remain the same throughout the term of your contract. The price can change only to reflect actual price changes that are allowed by Public Utility Commission rules due to changes in utility fees, law or regulatory charges. A fixed-rate plan allows you to be certain of your energy price during your contract period and protects you for the duration of your contract against the possibility of rising prices, but if market prices fall you have to wait until your contract is over to switch to a lower rate.
If you think you might want to discontinue service after a short period of time, look for a company that does not have contracts or offers short-term contracts. Companies that have contract periods often have a minimum term, and if you cancel your service before the contract period ends, you might have to pay a penalty. It's also a good idea to find out what happens to your rate at the end of your contract period.
Variable-Rate Plans:
With a variable plan, the rate you pay can go up or down every bill, depending on the changes in the electricity market. This allows you to benefit from lower energy rates at certain times of year. You'll often find variable rates on electric plans that have no contract, known as "month-to-month" plans. These plans don't have a minimum contract period, so you can switch plans or providers whenever you want.
However, just as this type of plan would allow you to take advantage of market prices falling, your rate will also increase if market prices rise. For some people, dealing with constant changing electricity rates can be stressful so a fixed-rate works best for them. On the other hand, there are others who like always being able to get the best rate and don't mind searching for it, making a variable rate plan their best option.
Understanding Your Electricity Facts Label
Picking a fixed- or variable-rate plan is just the first step. Next, hone in on the details of various plans at your disposal, using the Electricity Facts Label (EFL). The EFL contains more than just the electricity rate, allowing you to easily compare what each company has to offer to find the best fit for your energy consumption and budget. Each label contains the following information:
Electricity Price: This is made up of the electric company's average price per kilowatt-hour (kWh) for 500 kWh, 1000 kWh and 1500 kWh, which includes any monthly customer service charges and utility fees. Because some of these charges are a fixed monthly price, the average pricing can differ depending on the number of kilowatt-hours you use, so it's important to look at your past usage.
Contract Terms: Some companies have minimum terms, usually a certain number of months, and may charge you an early cancellation fee. Your contract term also tells you how long you'll pay a specified fixed rate.
Power Generation Sources: The plan's percentage of renewable energy will be listed along with the statewide average. If you're interested in encouraging the development of renewable energy sources, try a green energy plan!
How to Choose an Electricity Provider
So what's the next step? Once you've decided if you want a fixed- or variable-rate plan, it's time to see what plans are offered by different companies. Check out Texas Electricity Ratings, Electricity Choice Texas and Power to Choose to compare prices and ratings among electric providers in Texas.
Simply enter your zip code and then pick the kind of plan you want. You will be able to see different electricity providers and their company rating, plans offered, cancellation fees, whether electricity is produced from renewable resources and the terms and rate for each plan.
Another important factor to look at is the forms of payment and account management the plan offers. Some require electronic bills and auto-drafting payments. Others offer free online bill pay, let you pay by mail, in person or over the phone and allow you to use your bank account or credit card. Some companies offer top-notch technology like the ability to manage your account with a smartphone app or weekly usage emails.
Conducting Due Diligence on Your Provider
As excellent as third-party sites can be for starting your research, you should always take the time to visit the specific websites for the companies you find most interesting. On each respective site, you will be able to access detailed information about the company's policies - including billing processes, customer service availability and more. Many companies even provide the ability for you to chat online with a live customer service representative.
You can also visit review sites online to see what current and former customers have to say about a company. Many companies are also on social networking sites like Facebook and Twitter where you can easily interact with other customers and the company if you have any questions before signing up.
If choice is a big deal to you, research how many plans each company offers. A very limited amount of companies offer you the ability to build your own electricity plan, giving you full customization over your plan.
Who are the Major Players in the Texas Electricity Market?
Your electricity provider is just one of a number of major institutions that directly impact the Texas electricity market:
Public Utility Commission of Texas: The Public Utility Commission of Texas (PUCT) is the state agency responsible for the regulation and oversight of electric services in Texas. The PUCT regulates the delivery of electricity to ensure the safety and reliability of your service, with a mission to protect customers, foster competition and promote high-quality infrastructure. The PUCT operates as a state-level advocacy organization that protects consumers from being treated poorly by electricity companies. It's also responsible for the regulation of electric and telecommunications services. It works to ensure that the Texas electricity market maintains quality and safety and that poor business practices will not dampen the competition fostered by deregulation.
ERCOT: The Electric Reliability Council of Texas (ERCOT) administrates the Texas electricity grid and controls 85% of the deregulated electricity market in the state, making it the leading authority for the flow of electricity in Texas. As a corporation, ERCOT is comprised and governed by a board of directors from investor and municipally owned electric utilities, generators, independent members and consumers to maintain and ensure the reliability of the power grid. ERCOT is responsible for over 40,000 miles of transmission lines and 550 generation units around Texas. And on top of all those responsibilities, ERCOT also supervises the financial agreements and deals for the wholesale bulk-power market across the state, as well as ensuring the seamless switch of customers from one REP to another for the millions of Texans that live in the deregulated parts of the state.
Retail Electricity Providers: A Retail Electric Provider (REP) is any electricity company that has been approved by the Texas Public Utility Commission to sell electric services to residential and commercial customers. Each REP operates independently under deregulation in the Texas electricity market, as they compete with each other to entice potential customers to sign up for service. This is accomplished by offering a variety of rates and plan options (including green or renewable energy), as well as special incentives and other customer benefits. The REP is responsible for customer service, billing, and the actual selling of electricity service to customers.
Transmission and Distribution Service Provider (TDSP): In the deregulated Texas electricity grid, the Transmission and Distribution Service Provider (TDSP), or Transmission and Distribution Utility (TDU), does exactly what its title suggests - it is responsible for the transmission and distribution of electricity service to all the homes and businesses within its service area. TDSPs own all the lines, wires, poles, and meters in their respective service areas. The TDSP (not the REP) conducts any and all maintenance and repairs required for those lines, wires, poles, and meters. If you ever experience a power outage or another issue with your power lines, you will need to call your local utility. There are 5 electric utility companies in Texas:

Centerpoint
Oncor
Texas-New Mexico Power
AEP North
AEP Central

Power Generation Companies: The power generation company owns and operates the facilities that actually create the electricity we use in Texas. This includes any and all power plants, including coal, nuclear, natural gas or renewable. As defined by the Public Utility Commission of Texas (PUCT), each power generation company produces the electricity that will be sold on the energy wholesale market, but it does not own a transmission or distribution facility in the state.
The PUCT and Texas Electric Choice: Operated by the PUCT, the Texas Electric Choice website (also known as powertochoose.org) is devoted to providing information to consumers who are looking to switch to a new REP. The site discusses the benefits of switching, what Texas electric choice means to the consumer, PUCT-regulated terms of service and consumer protections, general information about electricity deregulation in Texas and more.
What to Do When You've Picked Your REP
Once you've decided on an REP, whether it's a switch at your current address or a move-in at a new address, the next step is to contact the REP to place a new order for service. The REP logs your service order with the TDSP that services your area and with ERCOT, who ensures that service is ready to start with your new REP.
Once service begins with your new REP, that REP takes care of your billing processes, delivers ongoing customer service to take care of your needs and works with the TDSP and ERCOT on your behalf to guarantee you and your electricity are in good standing.