Tips for Winterizing Your Home: Winter Preparation Checklist for Safety and Efficiency
Frigid temperatures and winter snow piles arrive hand-in-hand every year with the reality of increased energy bills and heightened home safety concerns. Getting your home ready for winter is a crucial task to control home heating costs and mitigate any potential hazards. Increase the energy efficiency of your home this season and protect your family from danger with this checklist for winterizing your home.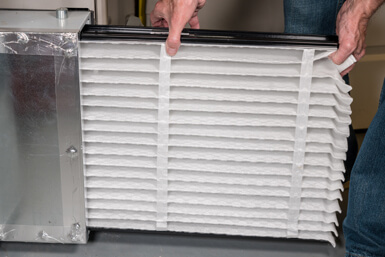 How to Winterize Your Home on the Inside
1. Insulate Your Windows
Windows are a natural place for heat to escape your house, but insulating them is one of the easiest ways to keep the warm air from leaking out. Virtually every hardware store sells plastic indoor window insulator kits that are inexpensive and easy to install.
2. Check for Air Leaks
Among the most effective strategies for winterizing your home and guarding it from frigid temperatures is to prevent cold air from getting in. Walk around indoors and outdoors looking for cracks or holes near any window or door. Check weather stripping by closing a dollar between a window or door and its frame. If you can easily pull the dollar out, it's time to replace the seal. Self-adhesive weather stripping is available at hardware stores and is easy to apply.
3. Rotate Ceiling Fans Clockwise
Hot air rises, which means you can waste a lot of money heating the air above your family's heads. Reverse your ceiling fans so that they rotate clockwise, pushing hot air down to the living spaces to increase your comfort and help you keep the thermostat cranked down an extra degree or two.
4. Unplug Unused Electronics
Electronics and appliances can have a large impact on your home's monthly electric bill. To cut these expenses, it may help to unplug non-essential appliances like computers, televisions, entertainment systems, and microwaves when not in use. This will eliminate the costs associated with standby power and protect your electronics from power surges. In areas with lots of electronics, like your entertainment center and and computer desk, surge protection power strips can protect your devices while making it easy to shut all of them off with a single switch.
5. Insulate Your Basement
Your basement can really eat up a lot of energy, simply because heat naturally wants to rise and escape. For this reason alone, it's vital that the walls and windows are properly insulated, even in unfinished basements. Rolls of fiberglass insulation are the most efficient solution.
6. Change the Furnace Filter
A new filter is one of the easiest ways to ensure your heating system works efficiently. Replacing the filter on schedule not only optimizes the performance of your furnace, it can also extend the lifespan of the system.
7. Winterize Your Furnace
Having a professional examine your furnace is essential to winterizing your home and the best way to ensure it's ready for the winter ahead. Schedule an appointment with a licensed HVAC technician ahead of time to avoid the winter rush.
8. Keep Your Thermostat Turned Down
To save money on your monthly bills, set your thermostat to 68° F when your family is home and try a lower setting when everyone is away or sleeping. Bundle up with blankets and winter clothing to stay comfortable without using your heater. If you plan to take a winter trip, it's best to set your home's thermostat at 50° F, according to Popular Mechanics. This will keep your house warm enough to prevent frozen pipes while minimizing the energy expenditure.
9. Invest in a Smart Thermostat
One of the best ways to save money on your winter heating costs without reducing your comfort levels is to purchase a smart thermostat. These devices are programmable to maintain your preferred temperature levels while you are home, while reducing the heat while you are away. They can also be controlled from anywhere with a smartphone or tablet, and some smart thermostats can even track your behavior and automatically make tweaks to provide you maximum efficiency.
10. Clean Your Chimney
A yearly sweep of your chimney can increase your fuel efficiency by allowing proper venting and protecting your home from serious danger. If you neglect to clean the chimney, creosote will accumulate and create a fire risk, while bird nests or other debris could also cause an unexpected hazard. In addition to fire, blockages in the flue could lead to smoke or other gases backing up into your house, affecting air quality and potentially risking health and life.
11. Test Smoke and Carbon Monoxide Detectors
One of the most critical steps you can take to protect the safety of your family is to test your smoke and carbon monoxide detectors regularly. This is an important task year-round, but becomes especially crucial in the winter when you are running your furnace and have increased risk of fire or fume leaks. Checking the detectors just takes a few seconds, and it could save your life.
How to Winterize Your Home's Exterior
1. Prepare Your Yard
Mowing might no longer be a concern, but you do need to prepare the yard for winter weather. Clean the gutters, as this helps prevent ice dams that could cause melting snow to seep into your home instead flowing efficiently away from it. Check the foliage on your property, paying special attention to anything near your home. If a tree or any of its branches look aged or diseased, remove them. Otherwise, the weight of the snow could cause the tree or branch to fall on your home and create considerable damage.
2. Winterize Your Garden
A small amount of maintenance in the autumn can leave your garden in the best position to flourish come spring. The exact steps you need to take depend on where you are located geographically and what types of plants you grow, but there are some general best practices: clip dead stems and branches, move vulnerable plants to an indoor location, and prep the ground with mulch to smooth out temperature fluctuations.
3. Properly Store Your Lawn Equipment
To keep a gas mower in peak condition through the winter, it's smart to drain the fluids, remove the spark plugs and thoroughly clean it so it will be ready to go when the grass starts growing again in the spring. For certain engine types, manufacturers recommend adding a stabilizer to the gas tank instead of draining the fuel, and suggest other steps specific to the particular model. Check out the instructions for your equipment to be sure. The same principles apply to other tools like weed whackers and leaf blowers – you'll want to get them clean, dry, and safely stowed for the season.
4. Acquire Tools for Snow Removal
When it's time again to stow your summer yard equipment, it's time to prepare (and purchase, if you don't have them) tools to clear the snow from your sidewalks and driveways. For some properties, a snow shovel might do the trick, but if you have a lot of square footage to deal with, a snow blower could be a wise investment. Make sure you perform a thorough inspection and perform all the recommended maintenance on the snow blower before you take it out for a spin.
5. Consider Purchasing a Generator
Depending on what type of winter you experience and how you heat your house, a generator could be a prudent purchase to help maintain your home systems in the event you lose electricity for an extended period of time. Generators can be expensive and pose certain hazards in terms of fuel storage and fume mitigation, but could also be the difference between weathering a blackout unscathed or having a bunch of spoiled food and frozen pipes to deal with.
6. Inspect Your Roof
Before the wintertime storms hit, it's a good idea to get your roof inspected to ensure you don't have any leaks or other potential signs of trouble. Flat roofs pose extra problems in terms of leakage because snow has more opportunity to build up instead of sliding off, and the drainage system is more likely to get blocked by ice. Climbing onto your own roof is dangerous, even if your home is single story, so it's recommended that you hire a professional to provide an expert's eye and grant you peace of mind.
7. Shut Down Your Pool
If temperatures in your region drop low enough to make a wintertime dip an unappealing prospect, you should shut down your pool for efficiency, safety, and to protect its parts. Follow your manufacturer's instructions to clean and prep the water, store the pump, filter and other parts somewhere warm, and decommission the pool itself until mild weather returns the following year.
8. Winterize Your Sprinkler System
Irrigation pipes in your yard are vulnerable to damage from freezing temperatures, so it's important to expel all the water from your sprinkler system once you no longer need it for the season, and before winter truly settles in. Depending on the specific layout of your system, emptying the sprinklers for winter can be as simple as letting them drain, or you may need to use an air compressor to blow the water out.