Prepare Your Home Exterior and Yard for Winter Weather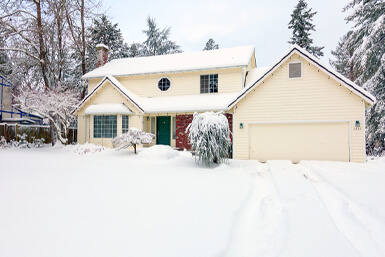 These six projects will help get your house and landscaping ready for cooler temperatures
It's important to finish your final winterizing projects before the cold weather of winter arrives. Here are six home improvement projects that will apply to most homes, and if you follow this convenient checklist, your home will be ready before the first snowflakes fall.
Prepare Lawn for Winter
Your lawn can easily be forgotten once it's buried in snow, so fall is an optimal time to support future lawn growth. Start by raking the lawn to identify bald spots and then use a tiller to loosen the soil in any bare areas. Apply fertilizer and fresh grass seed to the region. In addition to any reseeding efforts, homeowners should apply fertilizer to the entire yard in the fall.
Prepare Garden for Winter
To save your frost-hardy plants and make sure your garden soil is ready for spring, you should also give some special attention to any garden space or planters around your home. Remove all dead or unhealthy foliage and pull any weeds. If you have sensitive plant bulbs you want to save for next year, dig them up and bring them inside. Finally, prepare the garden bed by spreading compost and mulch, which will nourish and protect the soil until spring.
Ready the Roof
Many winter problems at home start with the roof. If you feel comfortable climbing on the roof, look for cracked or broken tiles and any roof sheeting that has become loose or rusted. These materials should be replaced immediately. Hiring a professional can save the hassle and risk of climbing on the roof and make the repair process easier.
This roof inspection is also a great time to clean out your home's gutters to ensure everything is draining properly. Doing so allows moisture to flow away from your home and limits the potential for ice dams to be created in winter. Installing gutter mesh can prevent clogged gutters from being a problem in the years ahead.
Collect Outdoor Equipment
Put the lawn tools you use during the summer months in storage. Store tables, chairs, lawn games and ornaments beneath a deck, in a garage, or on a porch, where they will be protected from the elements until spring.
Trim Those Trees
Vegetation is essential to any yard, but trees or tree branches that have died or become diseased can pose a risk to people and your home when weighed down by heavy snow. Inspect all of the trees on your property, paying extra attention to those nearest your home and to any branches overhanging the house or power lines. Address any diseased trees or those with dead branches immediately, removing them before winter snow can make them a hazard.
Cut the Water
Pipes can freeze and rupture in the coldest temperatures, and this can cause external and internal damage to your home. To prevent this problem, turn off the water to all external spigots and then drain the hoses. Homes with an exterior sprinkler system should also have the system blown out by a professional so it can be closed down for the season.
Have the Chimney Inspected
Homes with a working chimney tend to rely on it heavily during the colder months, and this makes routine service in the fall essential. A clean chimney not only reduces the risk of fire, but it also prevents harmful toxins from lingering in the air. The Chimney Safety Institute of America is a useful resource for finding nearby chimney cleaning professionals.
Schedule a Furnace Tune Up
An annual inspection and tune up of your furnace will help ensure that it's running as safely and efficiently as possible for the heating season ahead. If your furnace is more than ten years old, this is also a good opportunity to discuss the condition of your system with your HVAC technician and start making a plan for replacement if necessary.
Prepare for Snow and Ice
If you live in a climate where winter precipitation is likely, take time to account for all of your snow and ice removal supplies. You probably already have a snow shovel or snowblower -- move these to an accessible location and perform any necessary snowblower maintenance. To make sure you're ready for icy walkways and driveways, stock up on sidewalk salt or another deicing agent. If you wait until after the first major winter storm, you may find deicers in short supply.
Check Your Weather Stripping
The rubber gaskets around your windows and doors, commonly called weather stripping, aren't built to last forever. As they age, these gaskets can become dry, cracked and brittle. Inspect yours closely, and if you're not sure if they're sealing well, close a dollar bill in the window or door. If you can easily pull it through the weather stripping, it's time for replacement. You can buy self-adhesive strips of replacement weather stripping at any hardware store.
Preparing your yard and the exterior of your home for the colder temperatures of the winter months can be simpler than you think with these helpful projects.